DYING LIGHT 2: SAFE CODES, FULL UPDATED LIST 2022
Find the list of all the codes and combinations to open the safes present in Dying Light 2, and not be blocked. The safes present everywhere on the Dying Light 2 map will allow you to collect significant loot for the rest of your adventures. Whether it's optional, but interesting, material or one with real interest, the Safe of Dying Light 2 are not to be overlooked. However, to earn the treasure inside, you'll need to find a special code to open it.
SAFE CODES AND LOCATIONS
The developers do not want to make it easier for you, since these codes can sometimes be quite difficult to find. That's why we offer you, below, a list of Dying Light 2 safe and the codes that go with them, so that you don't waste too much time in your search. 
In each place where we can find a safe, there is a black box, which hides a document that gives clues to said code, so the task can be boring. 
CODES FOR SAFES
Code 1 → 9 7 3
Code 2 → 14 9 2
Code 3 → 1 0 1
Code 4 → 3 1 3
Code 5 → 3 1 4
Code 6 → 31 21 67
Code 7 → 5 1 0
SAFE LOCATIONS
You will find these chests in the following areas, or at certain points in the game:
Chest 1 → Quest for the First Biomarker at St. Joseph's Hospital, north of the hospital.
Chest 2 → Water Tower Quest, can be found south of Horsehoe.

To unlock it, you must find two characters called Jack and Joe imprisoned in the prison of the Peacekeepers, who must not be killed during the special mission. They will give you the code.

Chest 3 → Can be found east of Houndfield. The code is easy to find.
Chest 4 → East of Downtown, next to the bandit camp, on the roof of a building.
Chest 5 → Can be found south of Garrison in the electrical station. A note indicates that this is the approximate number of Pi, making it quite easy to open.
Chest 6 → Treasure Hunt quest in Muddy Grounds, north of Muddy Grounds in the underground water tower.
Chest 7 → The chest is in the Bazaar, going up the tower.
The image below is to locate these chests a little better (image obtained via Steam ).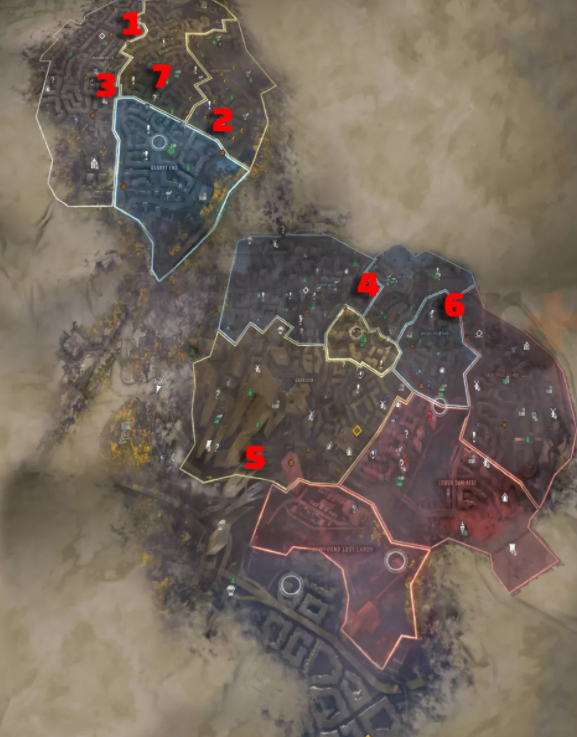 Dying Light 2 is available on PC, PS4, PS5, Xbox One and Series.