Everything About HP Victus gaming laptops
The HP Victus gaming laptops – We have already discussed several hardware products from HP here on PlaySense, albeit main accessories. Now it's time to look at a product you can actually game on. HP has launched a line of laptop models named 'Victus'. There are a few versions that you can use well, and in this article, we look at what Victus has to offer. We even had the opportunity to try out one of these laptops to find out exactly what we're dealing with. Read more about HP's gaming laptops here.
Sleek and businesslike design
In the early days, HP often released systems intended for the business market. These roots are reflected in the Victus line, which is not extravagant. No crazy colors or LED lighting, or weird notches in the design. No, it's all designed as tightly as possible so that Victus comes across as a laptop line without too much fuss. Despite the sleek design, it is not boring. The balance has been found nicely so that the laptop looks solid. On the top of the laptop, you have the silver Victus logo, and it all looks neat when you open the device.
You have a long speaker grille from left to right, processed above the keyboard. It contains Bang & Olufsen speakers for nice sound from your laptop. The keyboard is also nice to use, which is ideal for doing your office work on it and gaming. On the sides of the laptop, you will find the necessary connections, including a USB-C connection, HDMI 2.1, and the usual other ports. It is what you expect from it, but at the bottom of the line, a laptop from the Victus line comes across very well.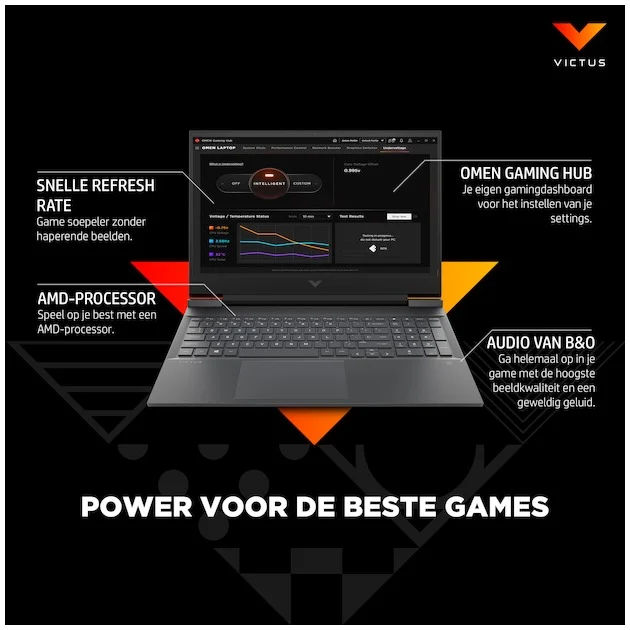 Big screen could be a little nicer.
Victus laptops are available in different sizes, and in our case, we were introduced to the 16″ model. There are also 15 and 17-inch models. Excellent formats, which are also all doable in terms of weight. The screen itself is very important here to discuss in more detail. When using it, we recoiled a bit because it has some faded colors. Even with only 250 nits, the screen is not very bright. Since it is a gaming laptop, we expected more from this. Also, because it is profiled as an IPS screen, we have the idea that it is a VA panel. The image is matte, and with a resolution of 1080p, we are not blown away by the image result.
Modest specs
You should not expect powerhouses in the Victus line. The laptops usually have XX50 (Ti) or XX60 cards from Nvidia. One of the better models contains an RTX 3060, so you can play some games on it. An i7 processor is also not very bad, and in combination with an SSD, you can get started quickly. An HP Victus16-d1495nd (with the specs above) quickly sells for around € 1700 retail. Still a hefty price. So who is this line intended for? Due to its business roots, we suspect this laptop should form a bit of a hybrid for people who want to use it for business but are not averse to starting a game now and then. With the juice in it, such a laptop also lasts a bit longer than an average system of € 700, which is a good point.
A nice brand, but there is more in it
HP has an interesting product in its hands. They are accessible laptops that you can use for both business and casual gaming. You have a nice work device with excellent battery life (around 8 hours with most models). The screen is only one part that HP should pay more attention to because it has managed to please us the least. When gaming, you want striking colors, and the Victus falls short. It is intended for a casual gaming audience, and the Victus has fortunately enough for that, although the price can be called a bit debatable. It is a nice laptop line for the rest, and HP has a lot of room to improve.