Halo Infinite Multiplayer Review
Halo Infinite isin keeping with the franchise's tradition of delivering robust multiplayer experiences, with content that will keep players active for years to come. Since the release ofHalo: Combat Evolvedmore than 20 years ago, the series has won thousands of players devoted to the created universe and the competitive aspect of its multiplayer. AsHalo Infinitehas the proposal of being the first game in the saga that offers its multiplayer for free, this challenge increases because, in addition to having to please veteran fans,343 Industriesneeds to make everything inviting for curious new players.
Overall, from both the Campaign and Multiplayer standpoints,Halo Infinitehas been treated as a spiritual reboot for the entire franchise. The studio intends to continue honoring the past but aiming for the future.
Did 343 Industries find the formula to captivate and keep players active in its title competition? Does the game have enough content to keep this community alive? Check out the Halo Infinite Multiplayer review.
Halo is back with everything!
At the end of the year, with medallions released from a series of first-person shooters, such asBattlefieldandCall of Duty, it looked like343 Industrieswould have a lot of work to do to make theHalo Infinitemultiplayer successful.Even so, the studio surprised the world and reversed the general public distrust with the title, presenting a fun multiplayer and solid performance. Even though there are some caveats, the overall experience is pretty positive.
Thinking about embracing new players,Halo Infiniteoffers an excellent opportunity for these newcomers to know how the weapons and gameplay of the saga work. TheAcademywelcomes new players, who can prepare themselves before joining matches against other players. Going to the competitive, Initially, there were three fixed lists:Quick Match,Great Team Battle, andRanked Arena. After some time, four more lists have been added:Fiesta,Assassin All Against All,Tactical Assassin, andAssassin Team. Within these lists, six-game modes play randomly are:Assassin,Capture the Flag, Capture the Single Flag, Crazy Ball(Unavailable for Large Battle),Strongholds, andFull Control(Only available for Large Battle). Arena and Quick Match support 4v4 and the Great Team Battle 12v12.
The Bots Training Ground is where players team up against the AI ​​in simulations for matches, which is interesting before facing the whole competition. Finally, the Custom Game is to create matches with your own rules.
Depending on the map and the mode, which can be bigger or leaner, several weapons and vehicles are available, yielding many epic moments during battles, in addition to the possibility of creating many strategies to win in each mode. There is a visible effort to put players into the fantasy of being aSpartan, fighting alongside their teammates to achieve the goals.
We quickly understand how each of the modes works and where we can get the most potent weapons and accessories that best match our style of play. Whether using theHookto perform the most varied movements around the map or, who knows, using camouflage to become invisible and catch enemies off guard. There are still vehicles in the equation, which offer moments of pure excitement as you climb aWarthogwith friends, catch aGhostand strike terror into a flag, or fly aBansheeblasting enemies through the air. The weapons bring a mix of the classic with some new features, all very well balanced, but can be maximized with the player's skill.
Controls and movement are very well adjusted, providing a pleasant experience on the battlefield. Controls are intuitive, and we quickly understand the function of each command. The high mobility ofHalo's multiplayer is refined inInfinite, with many options for moving around, whether running, jumping, climbing on structures, or sliding. All of this makes for intense and action-packed matches.
But some caveats need to be highlighted—first, the randomness of modes. InHalo Infinite, it is impossible to choose the mode we want to play. We can choose the type of lists, but not between modes within them. While it's interesting for all modes to be played by players, it's frustrating when we need to play something specific to complete theBattle Passchallenges. We end up having to play modes we don't want until, luckily, what we need. This randomness makes the continuousmatchmakingexperience always fresh. We ended up playing different modes, but that could be an option and not the only way to enjoy multiplayer.
More modes also need to be added, and 343 Industries is working to fulfil players' requests. The addition of theFiestaevent withFracture: Tenrai gotplayers excited about the new experience, and it was widely criticized for being temporary, as with the lack of more options, at least theFiestacould be maintained, even without the temporary rewards of thePass Tenrai. Fortunately,Fiestareturned weeks later. In Fiesta mode, we are born with a new set of weapons and accessories, offering fun and unpredictable matches whenever we die.
The343 Industriesmust be prepared to maintain its active base, with an offer of new activities always frequent. The content base is quite solid; if it is constantly renewed, it can easily keep players active for many years. Initially, I didn't feel the repetitive multiplayer. Still, I confess that I missedFiesta alot, as it was interesting to have this activity option. Who knows even the return of my favouriteWarzonemode in the future? The possibilities for expanding multiplayer are huge, and it's great to see that the studio is committed to increasing its options.
Halo Infinitecame out without Forge mode, which will only be added in Season three. It allows players to create custom maps and modes to share with the community. If the mode were present, it could increase the possibilities of enjoying the multiplayer.
The dreaded Battle Pass
Now let's talk about the most significant controversy inHalo Infinitemultiplayer: theBattle Pass. The idea of343 Industriesis to offer a progression focused on challenges. As the player completes them, he will climb theBattle Pass. Initially, you didn't gain experience by completing matches. Still, the 343 quickly absorbed the feedback and tweaked the multiplayer progression to provide a more rewarding experience. The studio recognizes that more adjustments need to be made and is already working on new updates to improve Halo Infinite continually. That quick response and transparency of the343it area good indication that they will always be there to support the game's multiplayer.
Free-to-playgames often adopt theSeason Passesand cosmetics system to monetize the title. Still, generally, this progression is natural, and rewards unlock simply by playing. InHalo Infinite, this also happens, but more slowly. The most efficient way is to complete the challenges to reach 100, the Pass limit. This model of challenges also forces you to play the way he defines and not the way the player wants. Yes, everything is customary, and I've already adapted to the model myself. Still, it's good that more great ways to get experience are added. It's also optimistic that the studio is looking to improve this.
Remember that theBattle of passesofHalo Infinitenever expires and can keep progressing with him, even after the end of the Season. As for the rewards, they bring good options to customize our character, our nameplate, and features such as XP boosters and exchange challenges. There's the free trial, where the rewards aren't as plentiful. The premium trail, which is paid, always has something interesting at each level. A system is also standard amongfree-to-playgames that use passes.
ThePremium Battle Passcosts 1000Halo Credits, which can be purchased for R$ 44.00 (R$ 39.60 if you are anXbox Game Passsubscriber ). Each Season is scheduled to last for three months, with Season 1 being extended a little further, running through May 2022. The studio decided to ensure that the following Season could deliver even more content, but without draining its staff, due to the frantic pace caused by the release. This increased Season one time will also allow some events to be added to the rotation. That way, the player can decide whether the rewards and season time are sufficient to invest in the battlePass, which is entirely optional.
There is still a shop with cosmetics and progression boosts. I found the values ​​quite expensive, but since it's a free game and with these items being optional, it's up to the player to choose whether to buy them or not.
A beautiful presentation of the Slipspace Engine
Halo infinitemultiplayer maps bring all the characteristic beauty of the richHalouniverse, whether in its internal structures, open environments, and, of course, in the details of eachSpartanweapon and armour. Everything is full of details and a lighting system that makes everything on the screen more alive. Another thing that draws attention is the care taken in bringing news, but always respecting the past. Even if they are new maps and with new mechanics, you always have that familiar taste that you are playing a complete experience in the world of Halo.
The game also brings the responsibility of being the incredible debut of the Slipspace Engine graphics engine, created by343 Industries, which arrives well, at least concerning performance in multiplayer, as it delivers a fluid experience, maintaining the beauty of the scenarios—remembering that I play on Xbox Series X, where you can play with up to 120FPS if your TV has support. If not, the quality mode, with 60FPS, also offers an incredible experience. The resolution is dynamic, but the graphic presentation is impeccable.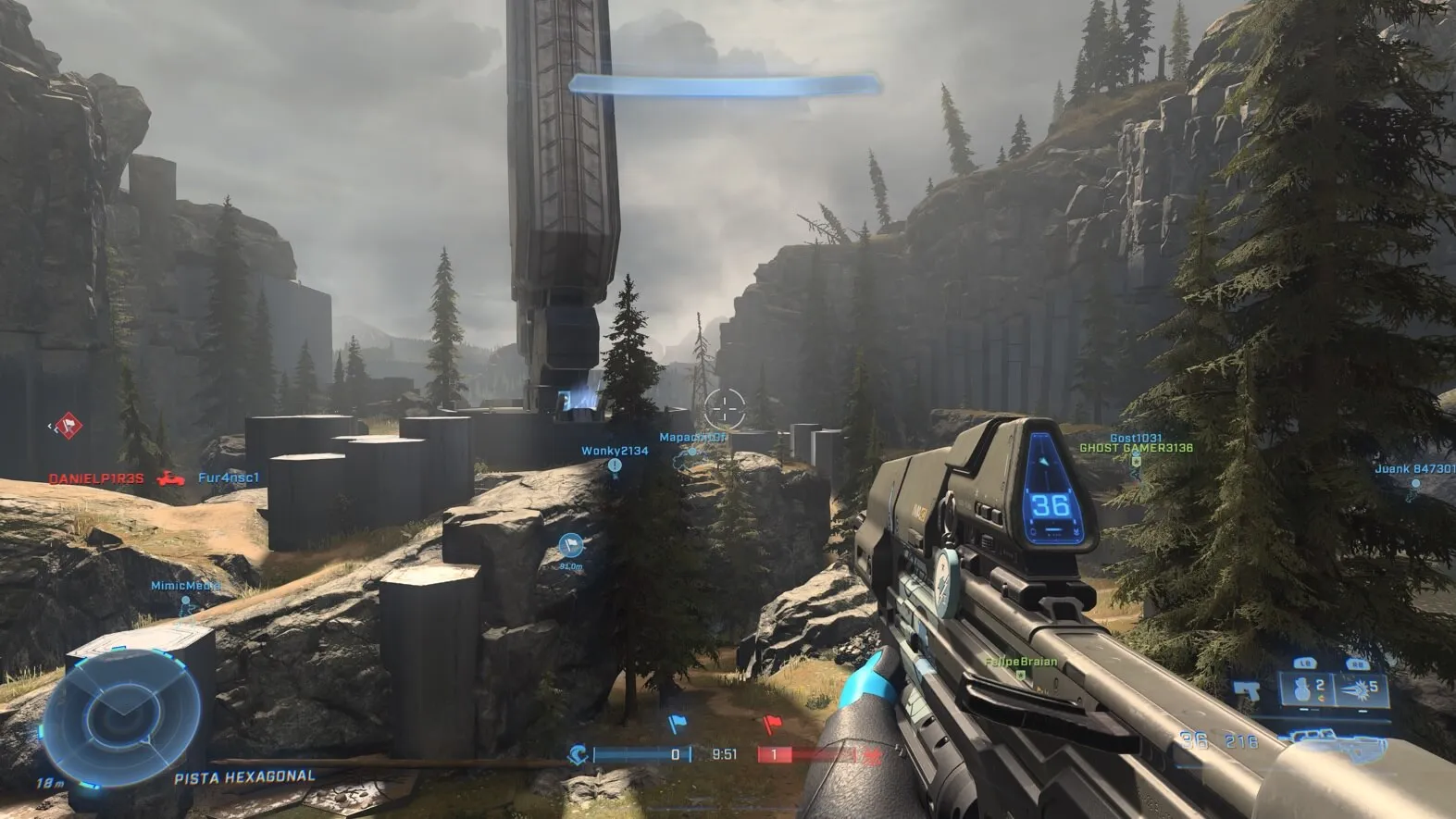 The sound follows the incredible visual work and delivers an impressive sound package. Each weapon has its distinctive sound, which echoes exuberantly across the battlefield and opponents. The sound work for reloading shields, vehicles, match narration, and everything in between offers a very high level of quality. All fully localized in our language, with dubbing, subtitles, and menus in Brazilian Portuguese.
Opinion
Both in Beta and now with the final version released,Halo Infinite'smultiplayer impresses by its high level of quality and fun, being my best experience with the saga's multiplayer, and the best offer, shot, for shooting game fans in first person this end of the year. The343 Industriesgenerated and still generate many suspicions about Halo's work. Still, it is undeniable that they have managed to deliver a well-built multiplayer package that has everything to evolve much every new Season.
The one-year delay was worth it, and even with some caveats about theSeason Pass, the need for more mode options, and some tweaking, the overall experience is excellent, with beautiful surroundings, fun gameplay, and smooth performance, bringing a unique feeling, mixing classic and new for an authentic and modern experience in the competitive universe ofHalo.
Halo Infinite Multiplayerisfree-to-playand is now available for Xbox Series X|S, Xbox One, PC and Xbox Cloud Gaming.