Apple announced iOS 13 on WWDC, many users reported a problem around them, especially regarding data loss. While software updates offer many new features, they come with their own set of problems. So, if you upgraded to iOS 13 and face a data loss problem.
You can use the iMobie PhoneRescue software to recover lost data. In this review, we will share how you can use this professional recovery software.
Use PhoneRescue to resolve data loss problem
PhoneRescue is a powerful professional iPhone data recovery software which offers recovery of 31 different types of data, including photos, videos, contacts, iMessages, etc.
Once you install the software and launch it, it will offer you three recovery modes–
Recover from iOS Device,
Recover from iTunes Backup,
Recover from iCloud.
There is an additional option – iOS Repair Tools. You can use it when there is an iOS upgrade failure, iPhone is stuck on the Apple logo, the device is unable to start, or the device is in recovery mode. That said, let's talk about how you can use each of these modes.
Recovery from iOS device
If you have just updated to iOS 13 and cannot find your data on the phone, then this is the correct way to recover them. You should also ensure that you have not performed any important file operations, including the removal of applications, new application installations.
Start the software and then connect the device to your computer. Select this mode and wait for the software to detect your iPhone. Once detected, click on the arrow button to go to the next step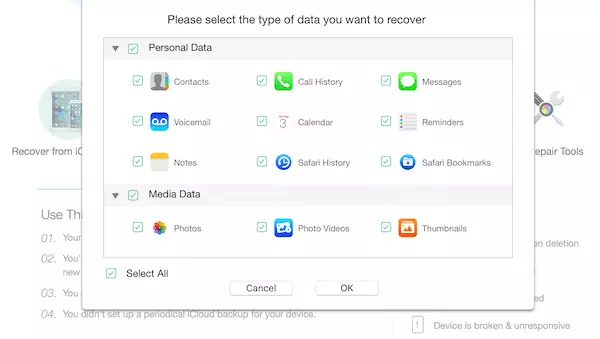 A pop-up window will open where you can select the type of data you want to recover. If you deleted a photo or uninstalled an application or deleted a contact, choose accordingly.
Click OK to begin the scanning process. Depending on the amount of data on your iPhone and the options selected, it may take a few minutes to a few hours. In case you need to go to work, you can always abort.
Let's say you have deleted a recent call log and need to call the person. It is a good use case because if you have no other way to solve it, it can help. Once the scan is complete, the result will show the lost and existing data, but you can use the "Deleted list only" option.
The results page offers a search box that you can use to filter data based on what you remember. If there are too many records, this option is useful.
Once you find what you want to recover, select the check box in the list item and click on the phone icon in the lower right. It will send all that data to your phone and retrieve it. The software also offers an option where you can save data on your computer. You can click on the computer icon to do so.
Recover from iTunes backup
iTunes always keeps a backup of all your data on the iPhone. If you have synchronized at least once, it is possible to restore all data. iTunes could be used to return to the same working condition if you had to restart your iPhone.
However, in case you have deleted some files, etc., it will not return that data to your phone. In that scenario, it will also delete the file from the backup.
PhoenResuce, on the other hand, can obtain the file or data from the iTunes backup. You can compare the data on iTunes and your iPhone and discover what is missing on the phone, and retrieve that data.
Recover from iCloud.
The third option is to search your iCloud. Using iTunes can be a bit risky. If you start synchronizing as soon as you connect it, everything will be lost. That's where iCloud comes in. The software can connect to your iCloud account and then download the backup. However, be sure to disable two-step verification because Apple restricts this type of login when using a third-party tool.
In iCloud, the recovery software will detect all contacts, notes, videos, etc. that you have synchronized with iCloud. It will also offer more types of data that you can recover. Make your choice accordingly. Once the download is complete, click on the Next button and a screen similar to the one we saw in the iTunes section will be displayed.