State of Survival Android Review
The State of Survival mobile game was recently made available by KingsGroup Holdings for Android, and its release date for iOS will be announced on August 31. Interestingly, this title managed to count more than 100k downloads within the first 24 hours of its launch on Google Play, and now, it exceeds 500k. While the game itself is a kind of stranger, its production value and its appearance at first glance indicate otherwise.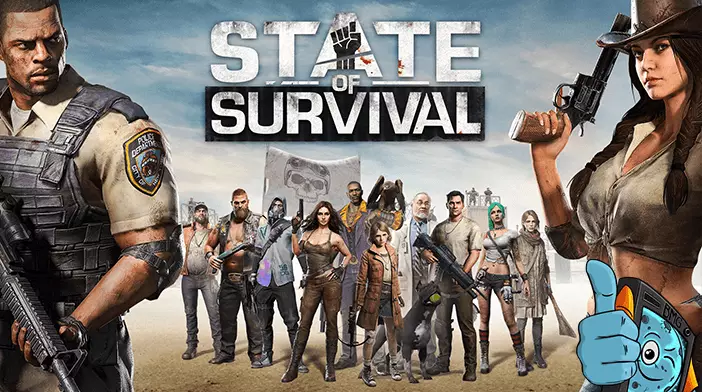 State of Survival Development and production
The game is categorized as a strategy and is signed by KingsGroup Holdings as a provider and developer. They are the same studio that brought Dino War: Rise of Beasts and Z Day: Hearts of Heroes, both games with more than 4 stars in both stores. As mentioned, on Google Play, State of Survival already has more than 500,000 downloads with a release date of August 27, 2019. It obtained a 4.2-star rating of around 20,000 ratings. The release date of the iOS version is set for August 31, 2019.
State of Survival Game History
This story takes place six months after an outbreak of the zombie plague. It has been six exhausting months of hardship, terror, isolation, and death. In fact, most people died as the infection spreads and threatens to end humanity. All survivors are organized in colonies and are trying to survive as best they can.
Right from the bat, this is a standard zombie game plot, but what distinguishes the State of Survival from other zombie games is not the scenario, but the narrative. The way the story is told is through very colorful characters. Similarly, how television programs on the subject, such as The Walking Dead, achieve a claustrophobic atmosphere, this game does too. In addition, the focus of the story is the human psyche under pressure, as well as fighting zombies.
Playability
Marked as a strategy game, this title actually contains much more construction and den evolution. Players can build and rebuild settlements to create safe shelters for survivors. In addition, you will have the opportunity to rescue people and increase your strength and your number. The only thing in this part of the game is that the rescued inhabitants of your shelter will contribute their special abilities.
In addition, players must investigate the mutation to understand it and possibly defeat it.
However, the main focus is, as mentioned, socialization. The force is in the numbers and also the social challenges. To survive, you must make allies and form partnerships to obtain strategic benefits. On top of that, this game works like a standard mobile strategy. Build several buildings with different purposes, such as food, population support, and others. Training troops will increase your battle power while losing it will decrease it.
This title also features the Challenge mode, in which your main character, his faithful dog, and one more ally go one way and hunt zombies. The movement is resolved with a simple touch, like everything else. All combat is done in this way while struggling to recover land, buildings, or some resources. However, you can also claim land by advancing your entire army against zombies, which will start a fight that will be resolved automatically.
Graphics and Appearance
The mobile game State of Survival looks pretty good compared to other zombie and strategy games. It has a 3D combat configuration and complete models. In addition, the representation is quite good, although the textures can be called a bit rough.
Verdict
This is definitely a game to try if you are a fan of the genre. State of Survival is a zombie strategy game with perhaps the best attention to detail so far in this type of title. The game offers an incredible amount of content and infinite playability. In addition, it is fun and immersive, with a strategic turn in combat. Definitely worth checking out.