The Division 2 Update 12.1 (1.30) & Server Down Details
Ubisoft revealed the change in the upcoming 12.1 major update for Tom Clancy's The Division 2. The Division 2 Update 12.1 add New Apparel Event: Resident Evil.
February 2, The Division 2 servers will be shut down. Maintenance is ongoing to apply TU 12.1. The Epic Games Store will download this update as soon as it is available tomorrow. Below you can also find the full changelog.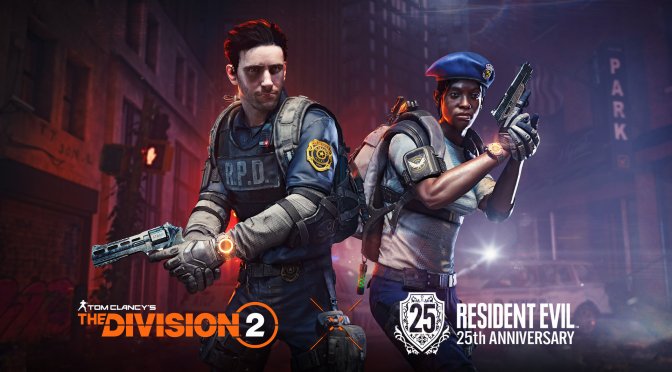 The Division 2 Patch Notes Update 12.1 (1.30)
New Apparel Event: Resident Evil
Racoon City has sent their best and brightest to answer the call in D.C. and New York City. This unique crossover apparel event launches alongside the newly revamped Reanimated Global Event. In addition to the wonderful outfits available through apparel keys, agents also get the opportunity to collect 7 new back trophies and 4 new patches celebrating Resident Evil!
To get the patches and trophies, the level 40 BOO daily projects have been replaced with S.T.A.R.S. Support and S.T.A.R.S. Assault projects.
Optimization Station Changes
Reduced all optimization costs by 75%.
Reduced all optimization material crafting recipes by 50%.
With this update agents should be able to afford to optimize their weapons and gear about once an hour. Though it may take up to two hours to gather all the resources necessary to optimize the final tier of many items.
Reanimated Global Event Changes
The green cloud produced by killing enemies with a headshot no longer harms agents. This cloud now heals agents and provides a significant boost to their firepower while standing within it. The green cloud continues to significantly harm enemies.
Bug Fixes
Fixed issue where gear sets would not correctly display which talents were required to be active for their chest and backpack talents to activate.
Fixed issue where Rigger would sometime refresh Tend and Befriend incorrectly.
Also fixed issue where Memento Kill Confirmed drops could come from friendly skills.
Fixed an issue where Memento buffs could last beyond death. Which was both grim and ironic.
Fixed issue where directives in the LZ could multiply experience earned in the DZ.
Also fixed and issue where Legendary Black Tusk would not count as "Black Tusk" for objectives in Leagues and Summit Challenges.
Removed objectives for the Skill Demotions Summit Challenge which referred to the Firestarter Chem Launcher and the Shrapnel Trap. The objectives were misbehaving and have been put in timeout.
Fixed issue where Vanguard and Perfect Vanguard granted their invulnerability to allies.
Fixed issue where Summit Combat Merit Commendation would display unusually in the Commendations menu.
Also fixed issue where Merciless and Ruthless exotics would trigger a cosmetic explosion on the seventh stack in addition to really exploding on the first shot after.
Fixed issue where Decoy Skill would not refresh correctly if it was deployed when getting a headshot kill with the Mantis exotic.
Fixed issue where other players on the League leaderboards would show your own SHD level and point distribution.
Also fixed misaligned elbow pads when using specific apparel items.
Fixed issue where The Summit matchmaking tab is not grayed out for groups containing level 30 agents.
Fixed issue where the audio queue doesn't trigger when killing the last enemy on floor 100 in The Summit.
Also fixed the Symptom Aggravator" talent description.