Top 5 Android Games – Top Picks For This Year
The Android Gaming industry is ever-growing & ever-expanding, re-imagining old genres, fusing them, and producing new trends. The latest one is, of course, what is often dubbed the auto chess genre. It began as a Dota 2 mod and is now represented in Dota Underlords and other games. More games of this genre arrive by the day, but daily, other gaming delights are also represented in stores. These 5 are our top picks for this year, considering the latest trends and cool ways of refreshing old-school genres.
1. Heroic Magic Duel
Developed by Nordeus, Heroic Magic Duel is an epic real-time strategy that allows players to compete in arenas, and prepare their units and strategies, while the units move automatically. It focuses on providing the player with the ability to manage his army in real-time, behind the scenes. However, games like this do not take away the game experience in any way, they only change the approach to a completely different aspect. Instead of managing your units on the battlefield, you do not issue movement commands and fight for themselves, while the player can remain completely dedicated to macro-management and the organization of reinforcements.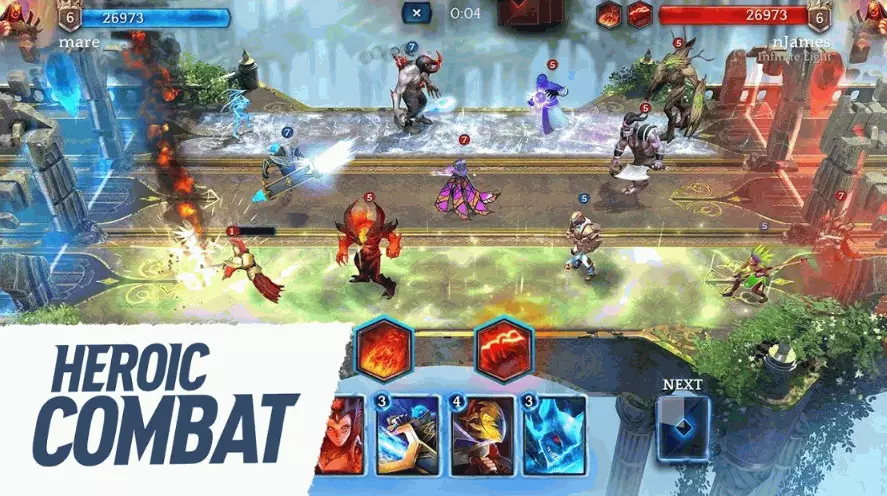 The player observes the battle and plays the cards that are considered best at a given time, as a kind of manager for his army, handling all other aspects behind the scenes. Therefore, it is not surprising why Nordeus delved into this genre, after his initial worldwide success with the mobile game football manager Top Eleven. As for the configuration, Heroic Magic Duel is, of course, a completely different game. It is set in a fantasy world. Battlefields have multiple lanes, and players transfer their units from the cards, expanding their resources and supplies of units. The game is especially praised for its multi-play flavor.
BRING ON THE FEATURES :
STRATEGY-DRIVEN, REAL-TIME PVP BATTLES: Use your cards wisely. Combine a rush deck of low-cost Minions with Divine Shield, choose high-damage Minions and boost their damage with Fury or come up with your own unique strategy. It's up to you! Outplay your opponents in the intense 3-minute adrenaline rush we call Battle. Get ready to be hooked on the sound of enemy portals crashing down.
HUGE SELECTION OF HEROES WITH UNIQUE SPELLS
Each Hero comes with a set of unique Spells for you to master and evolve. From Meteor and Hammer of the Gods to Chilling Wind and Giant Growth, pick your favorite brand of destruction to wreak havoc as you clash with your enemies. Master your favorite Hero or, even better, master them all.
AN ARMY OF MINIONS
We've got the assassins healers… tanks… a total of 50 mighty Minions, all yours to collect, upgrade and combine into a Deck of invincible magic.
GUILDS
Conquer together! Team up with friends to play "friendly" battles, chat, donate cards, and level up faster. 
COMPETITIONS AND LIVE EVENTS
Team up with guildmates to take on vicious magical beasts in special Boss Raid events. Earn unique rewards, level-up your Heroes, and go back to PvP stronger than ever.
LEAGUES & LEADERBOARDS
There's more than one way to prove you're Heroic! Climb the global, local, and friends Leaderboards by winning battles AND dominating different Leagues by the amount of devastating damage you deal with your opponents. Every blow counts!
ARENA PROGRESSION
Fight your way through breathtaking Arenas unlocking new cards, which feature an epic reward along the way. Prove you can make it to Legendary status. 
Heroic – Magic Duel is available in English, German, Spanish, French, Italian, Russian, Turkish, Chinese (Traditional and Simplified), Japanese, Korean, Indonesian, Vietnamese, Thai, and Brazilian Portuguese.
ADDITIONAL INFORMATION Heroic Magic Duel
Requires Android 4.4 and up
Content Rating Rated for 7+Mild Violence
Size Varies with device
2. Mobile Legends Adventure
After the huge success of MLBB, Mobile Legends Adventure, MLBB initially became famous because it has pioneered the MOBA genre in mobile phones, solving many control problems and game mechanics along the way, which are used by other MOBA games even today. It also accumulates its list of heroes, and from that group, a stream of tradition emerged that is now being explored further in this new title. The Future Begins global conference, during which MLA was featured along with the announcement for the upcoming Mobile Legends: Bang Bang World Cup 2019. On Google Play, Mobile Legends: Adventure Android stands on 4.6 stars, out of over 60 thousand votes, which is impressive. A Licensed Game Based on Mobile Legends: Bang Bang! You don't want to miss out on this official sequel.
New Features: Mobile Legends Adventure
Time Portal, clear Campaign 4-5 to unlock.
Trials
Crusade
Changed the login image.
ADDITIONAL INFORMATION of Mobile Legends Adventure
GAME Size 77 MB
Current Game Version1.1.21
Requires Android Version 4.0.3 and up
Content Rating Mobile Legends Adventure Rated for 12+Moderate Violence
Zero City: Zombie Shelter Survival represents an expansion of constantly growing zombie games. Developers are constantly trying to find new ways to adapt to the excitement of the bill, or rather make zombie games playable and fun, and appealing to a wide audience. While most developers are committed to improving game mechanics, BEINGAME LIMITED thought to expand the story.
Beautiful graphics, intuitive controls
Zero City: Zombie Shelter Survival does not use sophisticated full 3D graphics to satisfy players' needs in witnessing the ruins of post-apocalyptic destruction. Conversely, this game will give players a brighter look at the awful period that people are imagining although the character is designed with images that are easy to recognize in a Zombie game depicting the era of world collapse.
Therefore, Zero City mobile is a game that is based mainly on history. It brings an interesting version of the entire zombie apocalypse phenomenon, with its game, on the other hand, it is quite familiar. You manage your shelter, build it and fight zombie attacks. But, this is not exempt from unique moments either.
Zero City Multiplayer, PVP
We are not the only survivors, but only the strongest survive the apocalypse, right? Create a powerful and invincible squad to dominate your enemies in sand tournaments or attacks in other shelters. Show others who runs the program in open confrontation.
Underground Shelter Simulator
BEINGAME LIMITED is also a smart producer and keeps up with the When When their new products do with the Zombie theme. Just listening to this keyword is already a lot of players quickly follow and care. Moreover, the players who search for the phrase Zombie right on Google Play are very many, so it is not too strange for it to be hot quickly. Another feature that makes this game quickly gain sympathy for players is its graphics.
WHAT'S NEW in the Latest Version of Zero City
– Optimizations and improved game performance
– Bug fixes, Fix app crash
ADDITIONAL INFORMATION: Zero City Zombie Shelter Survival
Game Size 73 MB
Requires Android 4.4 and up
ZERO CITY Offered By BEINGAME LIMITED
4. Chess Rush
Speaking of automatic chess as a genre, the games under its patronage are emerging every day. And the strangest thing is that everyone is good in some way. Chess Rush is Tencent's entry into the whole new genre show, and it's great. He improved on several things, made some remarkable advances, and, in general, managed to succeed. It obtained 4.2 stars on Google Play, with more than 35 thousand votes.
The mobile game Chess Rush went even further to reduce the time of the game, designing this for an easy and fast game with a total duration of the game of more than 10 minutes. It is faster than Dota Underlords. In addition, as a countermeasure, Tencent put more alliances and team bonuses. If you have not yet played a similar game, certain units of the same type get a bonus if they are combined on the board in certain numbers. It is a fun and fast game to try and play.