Top Speed 2 game release with such a large variety of cars, all with upgradable elements and unique capabilities, and even presents a story of a 90's action movie environment, which is not just a secondary element as in most brokers. But, without further ado, let's see exactly how good this sequel is and what it did to enrich the racing genre.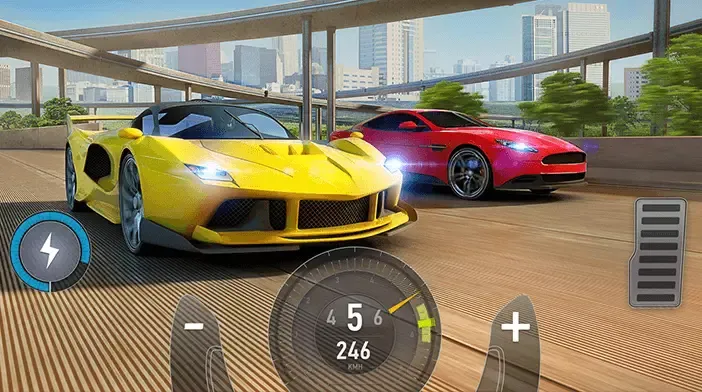 Development and reception
Top Speed 2 Drag Rivals & Nitro Racing and its predecessor both represent games that have expanded the racing genre for mobile. This incredibly interesting and attractive combination of storytelling, the atmosphere of the 90s, racing, and immersion is all thanks to T-Bull, who is a developer who has earned the respect of fans with the first installation of this series of races. This time, they brought even more cars, better visuals, different environments, and even bet on races in this excellent achievement.
Top Speed 2 Story-line
Taking a lot of action movies from the 90s and remembering slightly the crime/investigation television shows and even movies like Fast and Furious and 60 Seconds, this game completely immerses the player. You (the player) start as a suspended cop who has an affinity known for driving and competing. The police need their experience in a special task, for which they must work covertly. If you do this, they promise to forgive your past mistakes and reintegrate you by force.
Recently, high-class expensive cars began to disappear, all owned by rich people, and it is their job to find and recover them, as well as discover the chain of theft. Things get hot when you meet your field agent connection, the lovely Miss July Marks. She introduces you to The City racing gangs. She organizes you to participate in underground careers so you can be recruited after showing your skills.
Top Speed 2 – Official Android Gameplay Trailer
Gameplay Top Speed 2
The genre of runners cleverly merges with a pretty cool video game story. Then he begins his journey through the underworld, competing in freestyle races, often with rather loose rules and happening in the cities. The basic mechanics that the player needs to master are the gears and the corners, of course. However, his career skills are only half the job, since he will need to earn money and invest in improving and adjusting his vehicle.
In the short preview of Top Speed 2 the game's features are as follows:
Over 70 cars to choose from currently
3 Different racetrack environments
Countless car upgrading, customizing
Different racing modes, include Story and Elite modes
The Leaderboard
Limited-time racing mode
3D Full HD visuals
New multiplayer mode
Visuals
T-Bull has pushed the envelope with these two titles, both by merging history with a racing game and also by bringing high-end graphics into a fast-paced Android game. In summary, this game offers 3D graphics with 3D environments but still manages to stay fast and offers a stroke of the old adrenaline rush.
Verdict
Top Speed 2: Drag Rivals & Nitro Racing is an incredibly well-developed game, which was based on everything good that made the first game and simply improved and expanded on that. T-Bull did not fix what does not need to be repaired instead, they simply added the boat. This will definitely be the best career experience for Android users, so try it if you haven't done it yet.