How to Recover Deleted Files from Emptied Trash on Mac?
Anyone who uses a Mac should be familiar with its trash can. You'll be glad you have this great folder to store your erased data. If you have removed something crucial by accident, look in the Trash folder to see if you can find it. On the other hand, where do you go from there once you've emptied the Trash? Information on how to recover trash mac files is provided here. By the end of this guide, you'll know how to restore the contents of Mac's Trash and recover previously deleted files.
Part 1: Is it Possible to Recover Mac's Trash After it is Emptied?
On a Mac, you can recover trash mac, if you delete something you later want to reclaim. When you delete everything in the Trash, you're telling macOS to erase it forever. However, your Mac's hard drive or external storage devices will not immediately be cleared of these files.
The information is still present on the storage device, but the OS can no longer access it through the logical links that were previously in place. Operating systems typically mark storage space formerly used by files deleted from Trash as free for subsequent usage. The old data will be erased when the operating system requires new data.
You can retrieve deleted trash by using data recovery software until it has been overwritten. This program restores access to the files and directories by fixing the broken logical linkages. Having a backup is the only way to get back overwritten files.
Part 2: Recover Deleted Files from Emptied Trash on Mac With Data Recovery Software(Video Tutorial Included)
After understanding that it is possible to recover deleted files after emptying trash on Mac, if it happens that you also encounter the situation that your files are deleted after emptying the trash on your Mac, you can use professional data recovery software to try to recover them. No expertise is required, just three simple steps, photos, audio files, spreadsheets, documents and more can be easily retrieved using Tenorshare 4DDiG Mac data recovery software, a powerful program that is surprisingly easy to use. This program can be used to retrieve deleted files from trash on Mac.
What makes it stand out:
Recover deleted files from emptied trash after or in case of OS upgrade, virus attack, unintentional deletion, etc.
Recover data from any Mac hard disk or other Mac-based storage devices such as USB flash drives, secure digital cards, digital cameras and other devices.
Recover more than 1000 types of data including pictures, videos, audios, documents or others.
No need to disable SIP on Mac and also compatible with Windows system.
Intuitive and user-friendly pages without malicious pop-ups and annoying ads.
Learn 4DDiG data recovery on a Mac by consulting this comprehensive guide.
Step 1: Choose a Particular Spot
Once 4DDiG-Mac has been installed, launch it and choose a storage location, such as the Trash, to begin recovering trash mac, After that, select "Scan" to start investigating every document.
Step 2: Scanning and previewing
Scanning all of the deleted data will take a considerable amount of time. Following the scan's conclusion, you'll be able to select the files you're interested in viewing more information by tapping on them.
Step 3: Retrieval of Lost Mac Documents
Simply click the "Recover" button and decide where to store your data. Then, the files lost as a result of emptying the trash can be returned to your computer.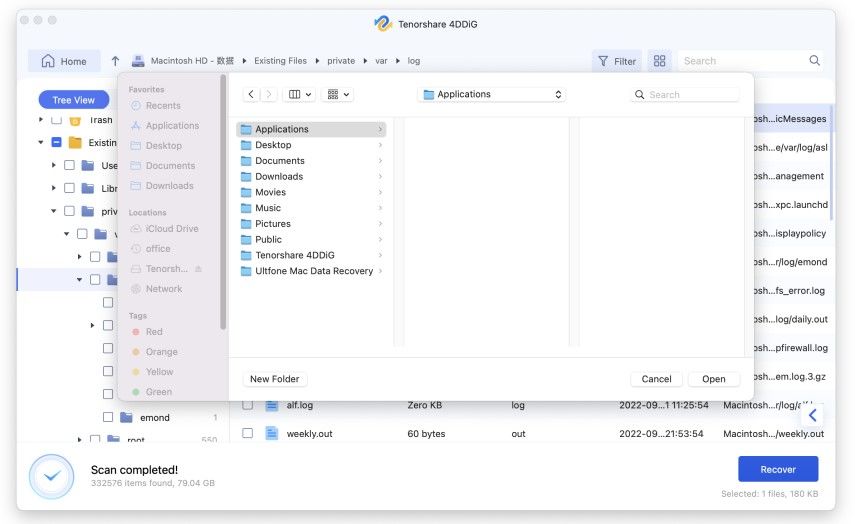 Part 3: Recover Emptied Trash from Mac Without Software
Once you empty the Trash Bin, there is just one option to retrieve deleted trash. The erased files need to be restored in different ways.
Solution 1: Recover Deleted Files after Emptying Trash on Mac with iCloud
Photos, movies, documents, notes, contacts, and more may all be safely backed up in iCloud, Apple's cloud storage and cloud computing service, which is available to all Mac users. The service, which has previously been used to prevent the loss of data, can now be used to restore any files that have been deleted from the Trash.
If you have mistakenly deleted items from your Trash and have access to iCloud, you can try to retrieve them as shown below.
Join at iCloud.com with your login details.
Choose the cogwheel to enter the iCloud settings interface.
Find the option to restore your files and click on it.
Click the Restore button after checking the boxes next to the files you just erased.
Solution 2: Retrieve Deleted Files from Mac via Time Machine
Time Machine is a built-in feature of all recent Mac computers. With Time Machine, users may back up their data to an external drive regularly and restore their entire system or individual files with a few mouse clicks.
To retrieve lost data with TimeMachine:
If you haven't previously, hook up the disk Time Machine uses to store backups.
Unlock the storage space from which the data were taken away.
Select Enter Time Machine from the Time Machine menu in the Menu Bar.
Use the timeline on the right side of the screen to find and choose the files you need to restore.
To bring back the selected file, click the Restore button.
Solution 3: Use Manual Backup to Restore Deleted Files from Emptied Trash on Mac
Do you have a backup copy of the file you accidentally erased before you emptied Trash? If that's the case, you can get it back quickly from the archive.
Most Mac users who back up their data manually need to do it more regularly. Therefore, their archives frequently include useless or irrelevant data that has yet to be updated in a long time.
Solution 4: Choose The Best Data Recovery Service to Get Deleted Files Back after Emptying Trash on Mac
You should definitely look into recover trash mac, service if you have a failed hard drive or a damaged storage device. If all you did were accidentally delete some files from your Trash folder on a Mac, a data recovery center's technological expertise will be able to help you recover anything.
There are two possible outcomes: either the data are present and can be retrieved using do-it-yourself tools, or they have been overwritten and can only be restored from a backup. DIY data recovery utilizing tried-and-true software can save you time and money.
FAQs about Deleted Files Recovery after Emptying Trash on Mac:
How Do I Recover Permanently Deleted Files from My Mac?
Recover emptied trash mac free, you can choose a third-party data recovery software, it can examine the raw data on your storage device and allow you to recover individual files is required to retrieve items from Mac's Trash after it has been emptied. Since your Mac can no longer access your files, using the Undo keyboard shortcut or any Terminal command will not help.
Tenorshare 4DDiG is highly recommended since it allows you to undelete items from the Mac Trash with a click. Every popular image, video, audio, and document file format is supported by Tenorshare 4DDiG and more than 1000+ types.
2. How Do I Recover Permanently Deleted Trash?
If you accidentally empty Trash, don't worry; there are multiple ways to get them back. Various methods exist for retrieving lost data, such as sifting through the garbage on an external drive or using the Mac's Terminal. If this doesn't work, try professional software like Recoverit, which is explicitly designed to retrieve deleted files.
3. Can I Recover Emptied Trash on Mac?
Deleted items from the Mac Trash can be restored. In this case, you can utilize data recovery software or any other recovery options. Below are some ways you can get back items from Mac's trash can after they've been deleted.
Mac Terminal garbage can retrieval
Use the external drive's trash can to retrieve deleted items.
Mac users use software for data recovery to retrieve deleted files.
4. Can You Recover Files after Emptying Trash?
The Recycle Bin can be restored after being empty, but doing so requires some workarounds. The Recycle Bin, as you may know, is where deleted files can be kept temporarily before being permanently erased. Destroyed files are not immediately deleted from your computer. Instead, they are stored in a temporary location called the Recycle Bin until they are either permanently deleted automatically or by you.
Conclusion
Keeping up-to-date backups is vital to defend your computer and its data. While this should never be put off, there may be instances when you need to retrieve data that was missed during a backup.
You may have deleted some brand-new files without first making a backup of them, and then you immediately emptied the Trash Bin. You can utilize recover trash mac software likeTenorshare 4DDiG Mac Data Recovery, to get those back. It's an excellent answer to the issue of retrieving deleted files from the Recycle Bin.