iOS Latest Version, Top 10 Best Features
iOS 13 is now available to the public. There are many new things to try in all areas, so read on as we summarize some of the best features of iOS 13.
Top 10 Features iOS 13
Apple Arcade :
iOS 13 includes support for Apple Arcade, which was released to beta testers earlier this week. Apple Arcade allows you to access a collection of games for a single price of $ 4.99 per month. Games can also be accessed from Apple TV and macOS Catalina when it is released later this fall.
Along with Apple Arcade, iOS 13 adds support for game controllers. This means that you can now connect an Xbox or Playstation controller to your iPhone or iPad.
Dark Mode:
One of the most popular features in iOS 13 will be the new dark mode throughout the system. You can program it to activate at certain times or enable it manually through Settings or through the Control Center. The new wallpapers are also optimized for Dark Mode and automatically change as you switch between light and dark.
Camera:
iOS 13, the camera application has received several notable improvements. Now you can adjust the intensity of vertical lighting, which Apple says can help soften the skin, sharpen the eyes and clarify facial features. There is also a new High-Key Light Mono effect for iPhone XR users or newer.
Sign in with Apple:
Signing in with Apple is Apple's new privacy-focused sign-in platform that is one of the highlights of iOS 13. It allows you to easily sign in to applications and websites using your Apple ID, which means no You have to complete forms or create new passwords.
There is also an option to "hide my email", which means you never have to share your email address with a particular application. Like Dark Mode, we expect developers to add support for Logging in with Apple as the rest of the year progresses.
QuickPath keyboard:
iOS 13 adds support for a gesture-based keyboard for the first time. The new QuickPath keyboard allows you to slide your finger from one letter to the next to enter a word.
The QuickPath keyboard works interchangeably with the normal touch keyboard, so it is not necessary to change the keyboard every time.
Accessibility:
Apple has made accessibility a focus with all of its recent software updates, and iOS 13 is no different. Headlining iOS 13 is a new voice control feature that allows you to control everything about your iPhone or iPad with your voice.
Maps: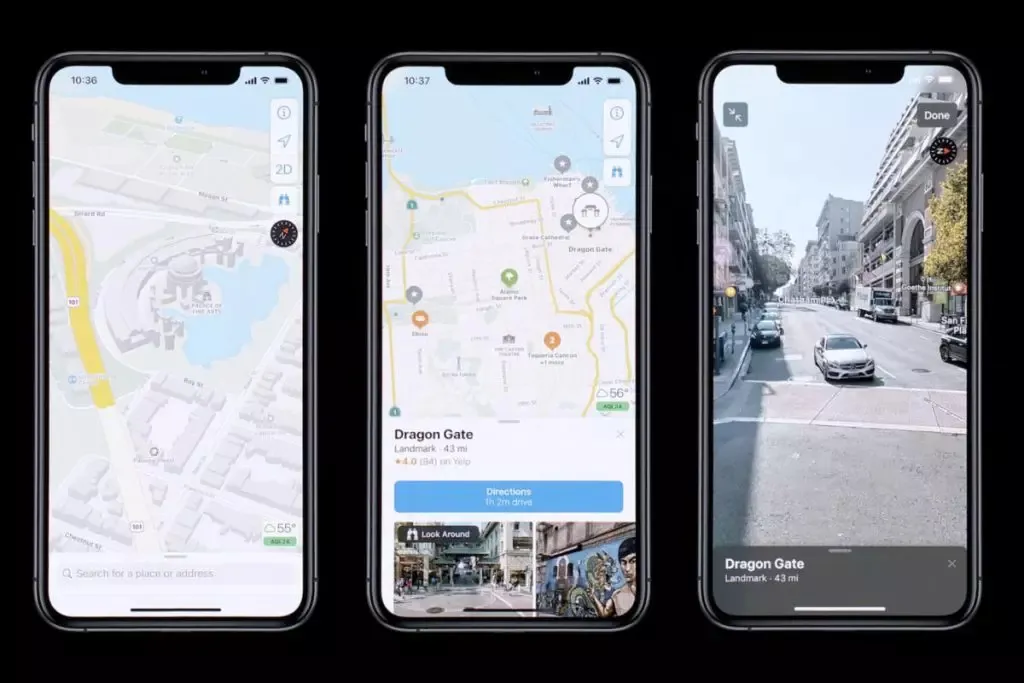 Apple Maps has received its own share of improvements with iOS 13. There is a new Look Around feature that allows you to have an "immersive 3D experience" that gives you a 360-degree view of an area.
Apple Maps also supports collections to organize your favorite locations, as well as better Siri guidance, real-time transit, flight status, and improvements in CarPlay:
CarPlay provides easier route planning, search, and navigation, as well as Junction View in China. Favorites and Collections features are also available in CarPlay.
Messages :
In iOS 13, there are a handful of new features in the Messages app. For instance, you can now easily share your name and photo with your friends:
Automatically share your name and photo when you start a conversation or when the other person responds in a message. Decide whether you share with everyone, just your contacts, or not at all. You can even choose to use an Animoji, image, or monogram for your photo.
New improvements to Messages include Memoji stickers, drastically improved search, new Animoji, and more.