COD WARZONE 2 & COD MW2: SEASON 2 – ALL INFO
Call of Duty: Warzone 2 and Modern Warfare 2 will launch the new Season 2 on February 15th. Here you will find all the important information in a quick overview.
Season 2 brings free, new content to Call of Duty: Modern Warfare 2 and Warzone 2. In this overview, MeinMMO collects the most important information with regard to:
updates
Content & Changes
mid-season
CoD MW2 & Warzone 2: Season 2 – Time, Download & Preload
When does Season 2 start? Season 2 goes online on Wednesday, February 15, 2023. A time is not yet known. Experience has shown that the season starts either early in the morning or late in the evening.
How big is the download? There is no official information about this yet. However, especially for Warzone players, the download should be slightly larger due to the new map. Calculates with 10 to 15 GB.
Is there a preload? Again, there is no official information yet. However, CoD mostly offers a preload – even if it's just a few hours.
As soon as the developers reveal more, we'll update the article accordingly. You can also check out the season 2 roadmap here :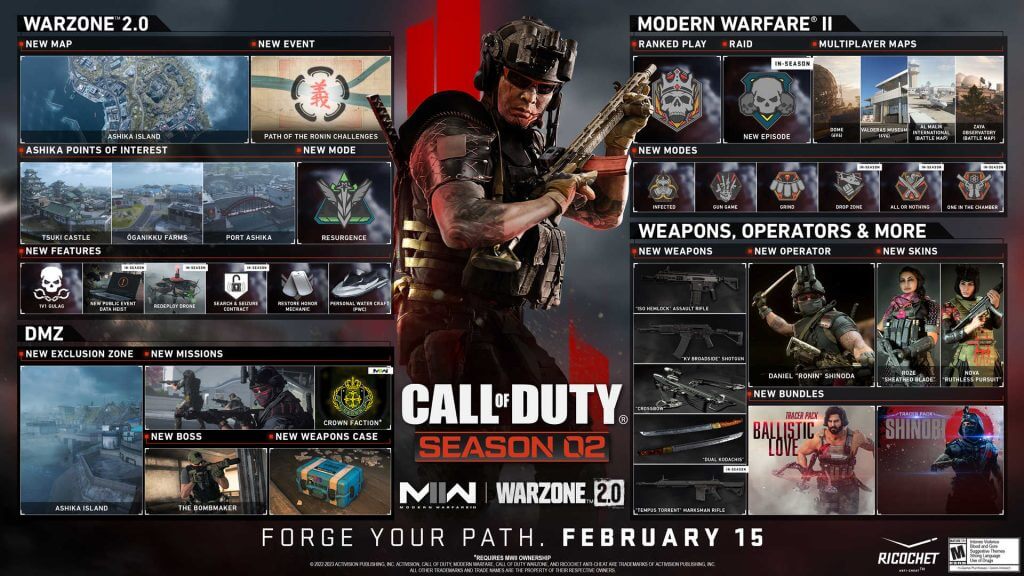 CoD MW2 & Warzone 2: Season 2 – Content & Changes
As in every season, you get a fresh Battle Pass with 2 weapons to unlock. A total of 5 new weapons have been announced for the entire season.
Assault Rifle: ISO Hemlock (BP)
Shotgun: KV Broadsite (BP)
DMR: Crossbow
Melee: Dual Kodachis
DMR: Tempus Torrent (In Season)
What's coming for CoD MW2? You can expect the following content at the start of the season:
Ranked mode
2 6vs6 maps
2 battle maps (large maps)
3 new modes
The new modes come directly into the game, but it could be that they end up in a playlist later.
What's coming for Warzone 2? For Warzone, the list is much longer:
Ashika Island
Resurgence mode
Restore Honor mechanic
New NPC – Rusher
New vehicle
Changes Al Mazrah
DMZ: Ashika Island
New DMZ faction
Progress Reset DMZ
There are also some changes to the free Battle Royale that will bring some mechanics back to how they were in Warzone 1:
Gulag again 1vs1 with a flag at the end
Loot drops on the ground from enemies or crates
Loadout drops twice in match (1st and 5th gas circles)
Everyone has 3 armor plates
Everyone has the same backpack
Each Buy Station offers Loadout Drops
CoD MW2 & Warzone 2: Season 2 – Content throughout the season
Some announcements are marked "In-Season" and will only come later in the season – possibly with the Mid-Season Update. There is no date for this yet, but the following announcements have already been made:
CoD MW2
war zone 2

Data Heist In-Match Event
Search & Seizure Agreement
Redeploy Drone
Warzone Stats