How to Fix Star Wars Battlefront 2 Error Code 721 ( Guide )
Star Was Battlefront 2 players encountered Error Code 721 when trying to connect online. This specific error is not limited to a specific system due to confirmation that it occurs on personal computers, PS4, and Xbox One devices.
How to Fix Star Wars Battlefront 2 Error Code 721? If you are looking for a solution for Error Code 721, we are sorry to say that a final solution has not been found, but you can try a variety of Internet related tweaks and fixes that may or may not solve the problem.

---
Depending on the sources we can find, there are a variety of reasons you might deal with Star Wars Battlefront 2 Error Code 721:
DDoS attack on EA's game servers
Corrupted game installation
Unstable DNS
Corrupted console cache data
IP configuration problems
UPnP enabled
If you are currently facing the same error code 721 in Star Wars Battlefront 2 and are looking for a way to fix it, this article will give you several troubleshooting steps. Below, you will find a set of techniques that other users have used in a similar situation to solve the problem.
Your first step should always be to verify if the game is Down. Without a doubt, the best source of information for this kind of thing is the official Battlefront 2 Twitter, which is generally at the forefront of related reports. In most cases, a server failure is the reason you find Error Code 721, but if you get stuck with a local problem with your device.
Method 1: Release and Renew an IP Address
---
Renewing an IP address can also help fix an IP address conflict.
To renew your IP address, go to Start, Run and type CMD to open a new command prompt window. In later versions of Windows, just click Start and type in CMD.
Now type the following command:
ipconfig /renew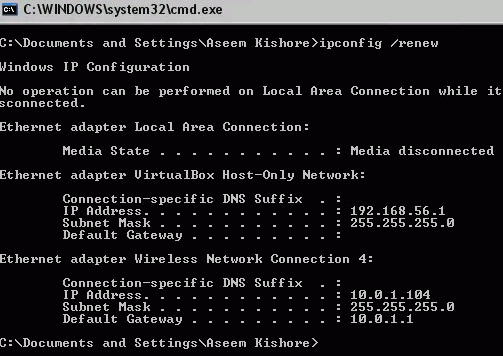 Release IP Address
To release an IP address, type in the following command:
ipconfig /release
That's all there is to it.
Method 2: Change your default DNS
---
Hit Windows key + R
Type 'ncpa.cpl' into the newly-opened 'Run' window
Find the network you're having trouble with in the newly-opened selection window and choose 'Properties' via the right-click menu
Go to the 'Networking' tab and then click on the 'Settings' button
Select 'Internet Protocol Version 4 (TCP/IPv4)' and click on the 'Properties' button
Select the 'General' tab in the new window, and then click on the 'Use the following DNS server address' toggle'
Replace the 'Preferred DNS server' values with 8.8.8.8
Replace the 'Alternate DNS server' values with 8.8.4.4
Afterwards, you're going to want to do the same thing with 'Internet Protocol Version 6 (TCP/IPv6), but use 2001:4860:4860::8888 as your Preferred DNS server, and 2001:4860:4860::8844 as your Alternate DNS server. In some cases, this will solve your problem.
Method 3: Disable UPnP
Disabling UPnP is more complex than ever. It is more difficult because you will have to access the configuration interface of your router, and this may be more difficult because turning it off may cause problems in games other than Battlefront 2.
You want to open your web browser and type "192.168.0.1" or "192.168.1.1" in the address bar. Anyone can work, depending on the brand and model of your router. You can find a large amount of router-related information at portforward.com, which we recommend checking before making changes to your device's configuration.
With the router user interface open, log in to the device using the credentials provided by your ISP, then go to the "NAT redirection" section of the interface. The exact name may vary, but keep in mind that you're looking for some kind of forwarding with a dedicated section for UPnP. When you find the relevant option, just deactivate it and see if the issue is resolved.
Method 4: Reinstalling Star Wars Battlefront 2 (PC only)
---
---
There is no guarantee that any of these solutions will work, keep in mind. Error Code 721 appears to be widespread, and you may encounter some problems getting rid of it. However, if nothing works, restarting the computer and / or reinstalling the game may help.
Stay tuned to TheGameRoof for the latest Star Wars Battlefront 2, patch notes and content drop news for the game.