Fortnite Week 15 – How to Duel Characters in Fortnite
To complete the Challenge of week 15 of Fortnite, you will have to face the characters. So here's how to Dual characters in Fortnite and how to complete the week 15 challenge, which includes the entire map and the location of all the NPCs; take a look. Below, we have provided all the locations of NPCs and How to duel characters in Fortnite, have a look.
The creators of Fortnite continue to push regular updates, and with these regular updates, they are also updating many new events and challenges in the game. Currently, there is a new challenge taking place in Fortnite in which you must duel your character with the non-playable characters in the game. This Challenge is available for week 15 in Fortnite, so if you are stuck somewhere in this Challenge or looking for locations or how to duel characters in Fortnite, you have landed in the right place.
Epic Games is now pushing some interesting events and updates to Fortnite and making NPCs even more exciting. In the Fortnite Week 15 Challenge, you'll have to face your character against non-playable characters in-game. But only a few specific characters have the option to duel them.
You can enable this option if you want, and after that, the characters will become lethal and try their best to defeat you in the game. You will gain a lot of experience points and some weapon perks, so it will be nice if you complete this Challenge.
The Challenge is part of the final set of Season 5 of the Weekly Challenges. This Challenge is called entry duels, with a total of 25 characters. You can earn XP with this Challenge. Below, you can learn more about how to duel characters in Fortnite,
How To Complete The Duel Characters Challenge on Fortnite
Setup a new match in the battle royale mode.
In the beginning, you have to try hard that land near or close to a character.
After that, you will have to talk to the character.
With the Gun and dagger symbol, you will have to choose to duel.
After that, confirm the option and then fight with the character.
Also, it is very important to keep in mind that NPCs can kill you and give you a tough fight. So choose a good weapon to kill them as soon as possible.
Below, you can see all the Fortnite NPC locations:
Here is some location where you can find the NPCs in the game:
Big Chuggus: Slurpy Swamp or the nearby Shanty Town
Blaze: On a hill south of Sweaty Sands
Brutus: At the southern point of Dirty Docks
Ragnarok: Viking Vessel west of Holly Hedges
Menace: At the centre of Colossal Coliseum
Ruckus: Hydro 16 west of Lazy Lake Island
Kit: Catty Corner
Kondor: The eastern side of Misty Meadows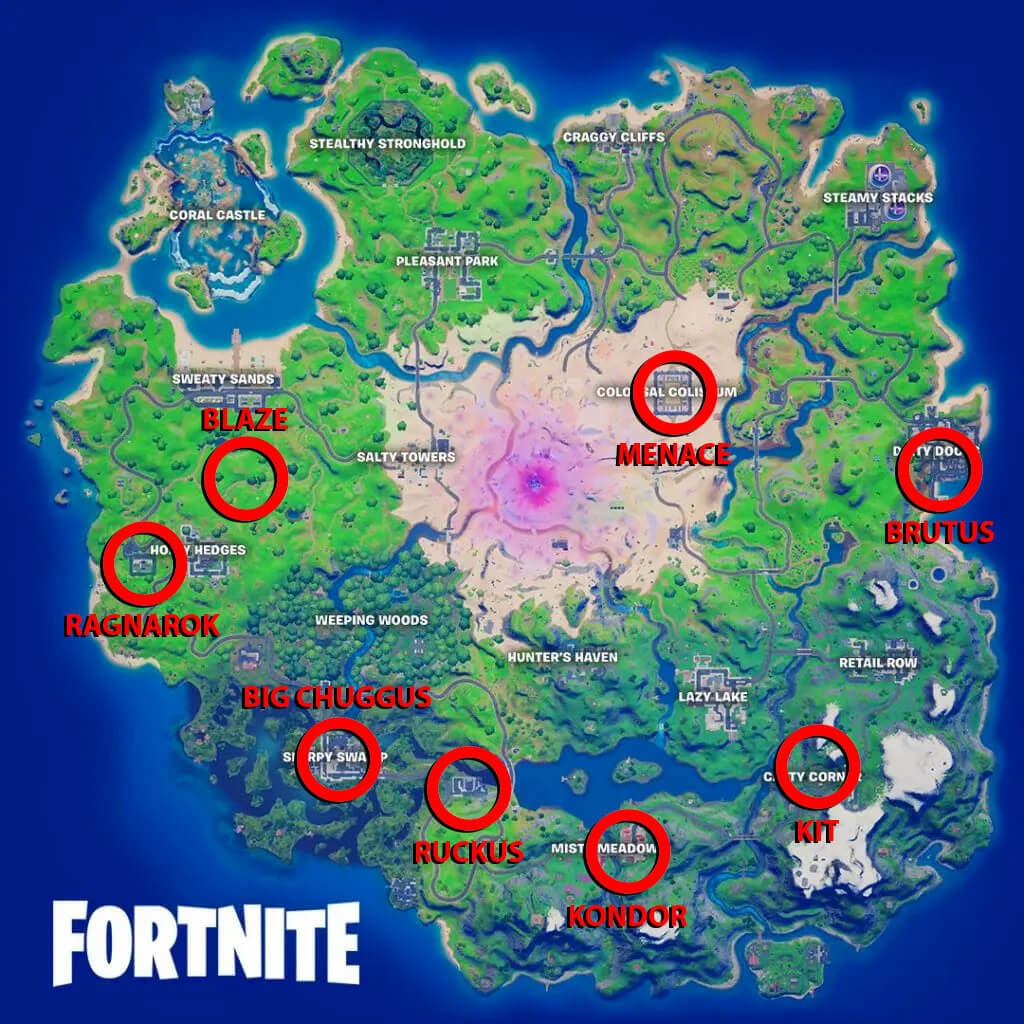 Don't forget that you have until March 16 to finish all the Season 5 challenges. Once that day arrives, Season 6 begins. Fortnite is now available to download on Mobile, PC, PS4, PS5, Xbox One, and Xbox Series X. For more information and the newest updates, stay tuned with TheGameRoof