Guide: League of Legends Crash Fix for Huge Log File Sizes
If you have severe lag on your computer or find League of Legend client crashes, again and again, deleting the registry may fix it. Since the Patch 10.7 update from April 7, players have encountered crashes with connection errors worldwide.
Although Riot was quick to solve problems as they re-emerged, some are still going on, which may be the cause of the problem. "I recently had some issues connecting to the EUW server. On the night of April 7-8, the LoL player/menu could not start or crash after startup. A friend told me to kill some riots on my computer. So I did it and did it once or twice.
Today I noticed that my system drive is almost full, so I checked WinDirStat and found that LoL records use 36 GB of disk space.
You should probably check this on your computer and most likely delete these records if your drive is almost full. "
Logs are a way to troubleshoot Riot problems and error information, but a frequent error message appears to cause the size of log files up to 100s of even GBs. It kills computer performance for every game, process, or application and should be deleted once.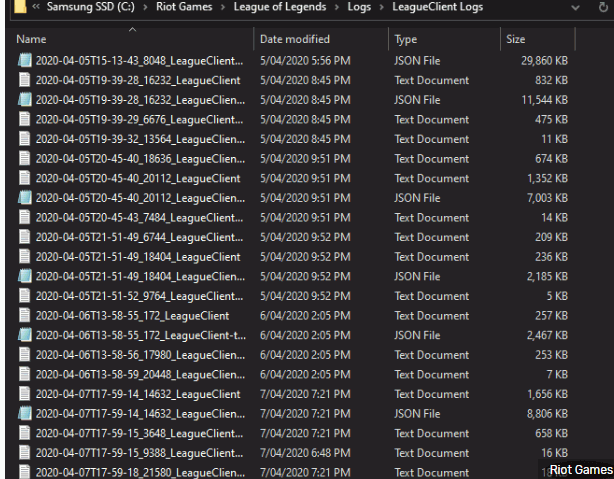 Another Redditor, Pascals_Tricycle found the root of the problem as he states "I'm looking at the log file. Looks like every few milliseconds it is sending an API request to https://pas.geo.si.riotgames.com/pas/v1/service/chat, which obviously some kind of chat service. Since the chat server was likely down at this time, it was returning error messages and each error message was being logged.

So yeah, if you log a decent-sized error message every few milliseconds for the entire time you've got the client open then that'll add up fast. I'm guessing that the client was (probably fixed by now) programmed to start making these chat API requests at some point in the login process and when logging in failed the client never stopped making these API requests to the chat server.

So I'm guessing we opened up our clients, tried to log in, saw the "authentication failed message" and from this moment on the client was invisibly just logging these error messages every few milliseconds until we finally closed our client." 
To fix the problem, Delete the log files by going to the log files folder.
First, go to your drive, then search for riot games> League of Legends> Logs> LeagueClient Logs should pull all recent records.
You can delete it freely to help free up some space. Other files are in application data> Local> Riot Games> Riot Client> Logs, and delete them all.
This should free up a bunch of disk space and solve all your crashing issues since the Patch 10.7 update.
If it doesn't, double-check no Riot Games processes are up in your Task Manager and give your computer a quick restart for good measure.
This should solve all problems not; check again for Riot Games in your task manager, and restart your computer quickly for a good procedure.
For more information and latest updates stay tuned with THEGAMEROOF.com