How to Unlock 90 FPS Ultra HD, Extreme on PUBG MOBILE
This guide on how to play PUBG Mobile with 90 FPS settings with the help of a configuration file get high frame rates on PUBG Mobile. We have found a way for you to unlock PUBG 90 FPS, HDR and Ultra HD option on all Android phones and emulators with a simple config file.
WHAT IS FPS? FPS is frames per second which is the number of images that can be seen in one second and games like PUBG mobile wanted FPS like 60 fps or more for best performance in PUBG mobile.
You can enable this 90fps option in PUBG mobile in a cool way:
How To Enable PUBG Mobile 90 FPS Mode?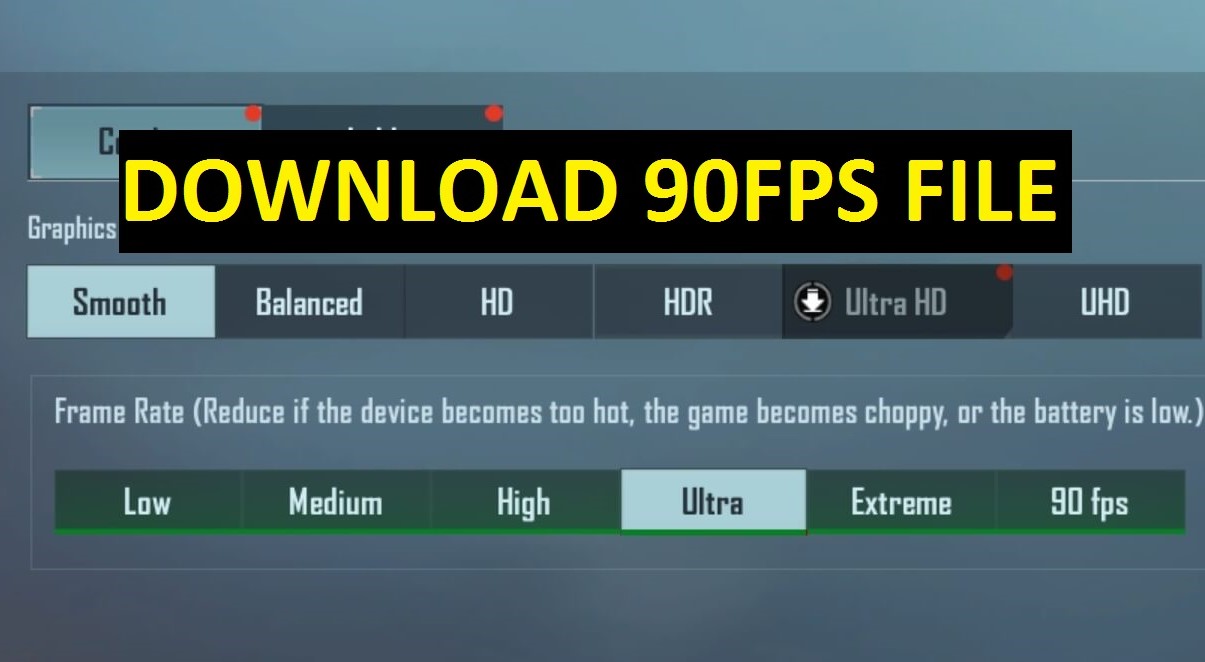 .Here are all the steps you need to follow:
Download the file from here.
Open File manager.
Copy the downloaded file.
Go to Android> data > Com.tencent.ig > files > UE4Game > ShadowtrackerExtra>ShadowtrackerExtra > Saved > Config > Android.
Paste the PUBG file.
Now, Run the PUBG Mobile game.
Go to Settings>graphics.
You will see an option up to HDR Graphics with Extreme frames.
Once done, you can find the new options in the Graphics tab of Settings in PUBG Mobile. I advise you to set the smooth graphics with frames Extreme to get the best performance and avoid heating problem.
Phones List support PUBG extreme graphics / Which PUBG phone has 90fps?
Android devices currently supported to play PUBG Mobile at 90fps graphics settings:
Huawei
Xiaomi
Xiaomi Mi 11 Ultra
Xiaomi Mi 11
Xiaomi Mi 10
Xiaomi Mi 10 Pro
Xiaomi Mi 10 T
Xiaomi Mi 10 T Pro
Poco X3
Poco X3 Pro
Poco F3
Xiaomi Black Shark 3 Pro
Xiaomi Redmi K30 Ultra
Xiaomi Black Shark 3S
OnePlus
OnePlus 7 Pro
OnePlus 7T
OnePlus 7T Pro
OnePlus 8
OnePlus 8 Pro
OnePlus Nord
OnePlus 9
OnePlus 9 Pro
Oppo
Oppo Reno 3 Pro
Oppo Find X2
Oppo Reno5 Pro 5G
Oppo A73 5G
Oppo Reno Ace
Realme
Realme 6 Pro
Realme 6
Realme 7
Realme 7 Pro
Realme V5 5G
Realme 8
Realme 8 Pro
Samsung
Samsung Galaxy S21
Samsung Galaxy S21 Plus
Samsung Galaxy S21 Ultra
Samsung Galaxy S20 FE
Samsung Galaxy S20+
Samsung Galaxy S20 Ultra
Samsung Galaxy Note 20 Ultra
FAQ: PUBG 90 FPS
Can I Get Banned For Using This Config?
You cannot be banned for using this configuration to unlock 90fps on PUBG Mobile. This is because the feature is officially supported on many devices!
Thanks for reading this article. If you found this article interesting and useful, let me know in the comments section and also share it with your friends