Fastest Way To Load Into GTA Online Quickly (Guide) GTA Online load time fix released
Do you know that when you hang in the loading screen of GTA 5 Online or gta 5 for android for minutes and you can't go on? This setting helps many players with the loading process. Are you search a method to make GTA Online load faster?
That's the problem: the loading times for the online mode of GTA 5 are already a meme in the community. The reason for this is that the loading process sometimes takes 10 to 15 minutes before a player is assigned to an online session. GTA Online loads forever, and nothing happens.
In between, there are error messages that no compatible session was found and is now being looked at or GTA 5 is being entered.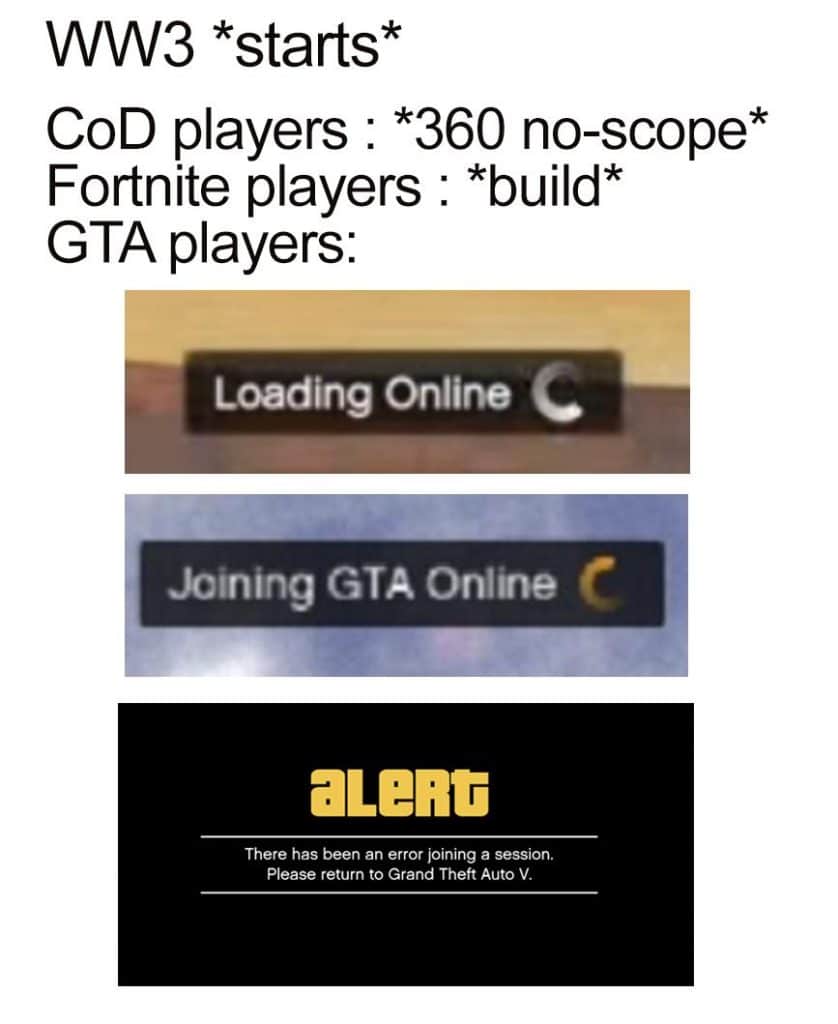 Sometimes there is no error message at all. And so you sit in front of the screen for minutes and look, piece by piece, at the various motifs and texts that Rockstar Games presents to players while waiting for an online session. For example, they point to this jammer search.
We measured: If everything goes according to plan, then it took us about 3 minutes to join the world of GTA Online on average. Plus / minus 20 seconds. But from experience, we can say that joining us has taken a lot longer.
GTA Online load time fix released: GTA Online Update 1.37 is Live – Patch Notes 1.54 on March 16

Rockstar released update 1.54 announced for GTA V today. We have the full fix notes for Fix 03/16/2021.
GTA 5 update 1.37 is now available to download for all platforms. At this time, we do not know the size of the download file.
GTA Online Patch Notes 1.37
There doesn't seem to be any official patch notes yet, so far we can find the following:
IMPROVEMENTS AND FIXES:
There are reports that loading times are shorter (loading SP/Online seems to be faster)ONLY ON PC
Winky Trade Price is fixed.
OTHER:
There are reports that you can't boot yourself to solo sessions anymore, and that the game crashes. Some players also experience crashing when switching to another sessions (XBOX One). Public solo session on PC works (TESTED).
In the community you always hear the same sentence as a suggested solution. "Just load it into story mode first. From there you enter online mode. Goes much faster. "This should shorten the loading times of GTA Online on PC and PS4 as well as Xbox One.
This habit comes from the last generation of consoles. But players are convinced that it would also help at the moment.
This means a setting in GTA 5.
Opens the menu in online mode or story mode (start on the controller, ESC on the PC)
Switches to the "Settings" tab
In the menu on the left you select the item "Save and start"
If necessary, the option at "Start page" changes to "Off"
Now choose the setting "Load into story mode"
This setting changes the starting behaviour of GTA 5. When you start the game, it doesn't stop at a start page where you choose between online and story. Instead, the game loads straight into story mode.
Of course, you can also manually select the story mode on the start page.
So let the game load into story mode, open the menu via ESC or start. Now click on Online and then on Start GTA Online. Then you choose your desired session mode.
With this setting, there should be no longer incredibly long loading screens (as long as everything is OK with the Rockstar Games servers). Some players swear by this method.
I, Patrick, have discontinued this variant for a few weeks now and have fewer problems with loading screens. I only notice the extended time at peak times, such as in the evening or at the weekend.
How do I reduce GTA Online loading times by 70%?
To get to the bottom of the problem, T0st writes that they started by profiling their own CPU to try to figure out why the game was maxing out a single CPU thread for over four minutes during loading. After using a tool to dump the process stack and disassembling the GTA code as it was running in memory, T0st noticed a set of (somewhat obfuscated) functions that seemed to be parsing a 10MB JSON file with over 63,000 total entries.
For one, the specific function used to parse the JSON string (seemingly sscanf, in this case) was apparently running a time-intensive strlen checking function repeatedly after the read for every single piece of data. Simply caching that string length value to speed up those checks resulted in an over 50 per cent reduction in load times on its own, T0st writes.
After parsing all this JSON data, GTA Online seems to load it into an array in an extremely inefficient way, checking the entire array for duplicates from scratch as it grows. Replacing that process with a hash table that can quickly check for duplicates led to a roughly 25 percent load time reduction on its own, T0st writes.
FURTHER READING
Judge orders $150,000 in damages in GTA Online cheating case with these two fixes combined, T0st says GTA Online's load time went down from six minutes to just under two minutes on the test machine. Those interested in replicating the results can build a similar DLL from T0st's source code. Players should only do so at their own risk, though, since this kind of modification could easily (and erroneously) set off the game's anti-cheat checks.
Meanwhile, T0st wrote that implementing this solution for all players on the Rockstar team "shouldn't take more than a day for a single developer to figure it out." Hopefully, renewed attention to this problem will have Rockstar do it sooner rather than later.
Try this setting and tell us after a few days whether you can use it to load faster into the world of GTA Online. Do you have any other tips for reducing loading times? Then write us in the comments.
FAQ: GTA Online loading times
How long does GTA online take to load?
Here's the problem: GTA 5 online download times are really a meme in the community. The reason for this is that the upload process sometimes takes 10-15 minutes before a player is assigned to an online session.
Why is GTA 5 stuck on loading screen?
Usually GTA Online stuck on the loading screen is due to connection issues or game crashes.
Does GTA load faster on SSD?
Nothing else you can do will make this big difference. The game downloads a large amount of data from the disc as a large part of the download process. Insufficient RAM or CPU speed can also slow things down, but faster than recommended won't help much.