Minecraft Dungeons: How to Fix Unable to Verify Ownership
Mojang's newest Minecraft game, Minecraft Dungeons, is the latest role-playing game with a spin on the large franchise. Minecraft Dungeons game faces a problem where many users notice that their ownership of the latest game has not been proven. Minecraft Dungeons game faces a problem where many users notice that
Unable to Verify Game Ownership" Error Explained in Minecraft Dungeons – Reasons, Bugs, Fixes, etc
The error was mainly preventing users from accessing the game after purchasing the title from the Microsoft Store. Game owners get a "Verification could not be verified" error message every time they try to play the game. The problem was mainly widespread on Windows. However, some sources claim that the error was also seen on other platforms.
Xbox One users are reported to have problems with Minecraft Dungeons on their Xbox Live account. They received a "Sorry, and you don't seem to own Minecraft Dungeons on this account" error message as part of the in-game notification. It also requires users to ensure they are signed in to the correct Xbox Live account and restart the game.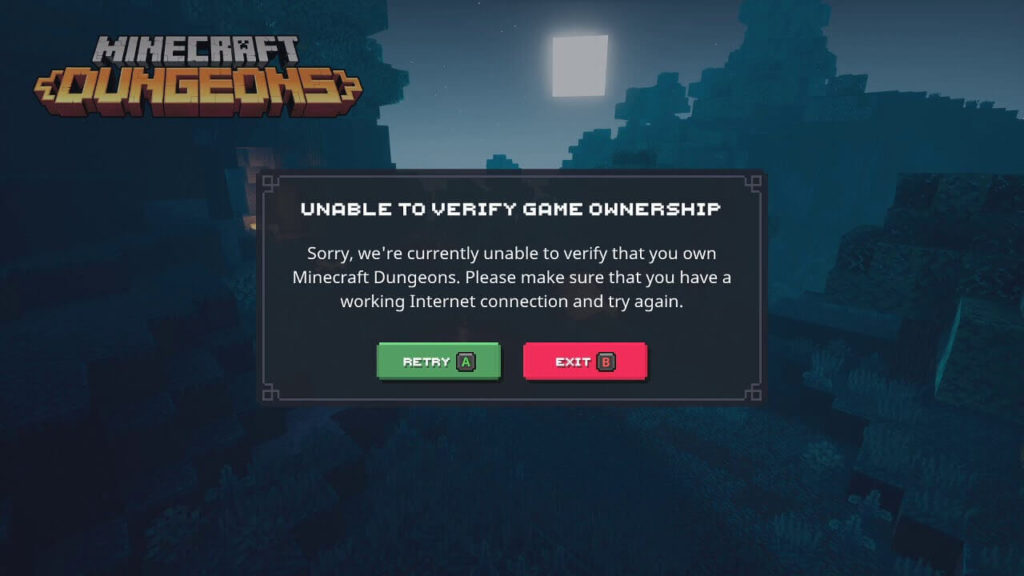 Mojang noticed a bug via her Twitter handle, saying problems with the error message on Windows were still continuing for a number of players due to service outages. The company also assured users that it would keep them informed of more updates. Soon the developers followed another tweet as they continued to work on the fix.
The bug affected the Microsoft Store version of the game, but Mojang Store version seems to be working fine. A number of users have reported that they can fix the problem by holding down the "Retry" button or restarting the computer when verification fails, indicating that it may be due to an overload on the server.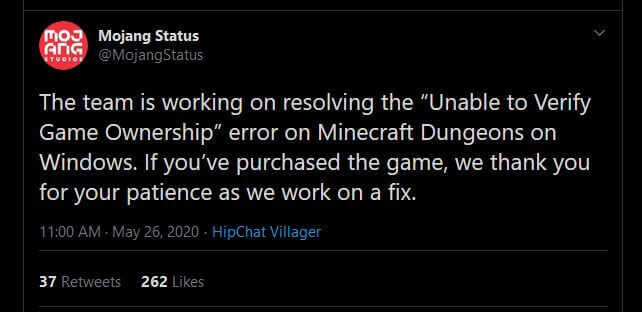 While patience is always going to win out in the end, there are some users that have had various fixes work for them. Reddit user SpookyFairy has said that their fix was to "keep tapping this 'try again' button until it worked," while Kordakin in the same thread stated that they simply restarted the game.
Minecraft Dungeons could not verify computer game ownership: How to fix the error.

There was a similar mistake in the first two days, but now something new has appeared. You can do the same kind of repairs.
Click "Try again" or "Try again" until it works.
Give the game a respite and try again later.
Delete the game and re-download it

Fortunately, uninstalling and re-downloading the game does not take long due to the small size of the game itself. It was a common problem, mostly associated with gamers who share Game Passes. Still, ironically, the computer players are the most affected. You can also search for Windows 10 update.
However, it is not clear if this actually solves the problem because it is a bug from the end of the developer. While the bug has caused problems for all eager Minecraft Dungeons buyers, we hope it is just a small hurdle that needs to be fixed relatively soon.