Mobile Legends: Adventure key codes redeem 2021
The Mobile Legends Adventure redeem key codes are regularly released by the developers, Moonton. You don't always have to beat them in Mobile Legends: Adventure to get the many resources and materials in the game.
Sometimes the game's developer Moonton releases a bunch of tokens that you can enter that will reward you with some of these resources for free.
In this post, we've compiled the full list of CD-Keys that are currently available. Now grab one to get free gems, town of gold and many other rewards.
Mobile Legends: Adventure key codes
When you enter these codes, some of them may be expired. Unfortunately, it can run out very quickly, but sometimes you can get lucky and still be able to redeem the reward after the code expires. That is why we have kept all of these icons on the list.
47BWK42223S – get 1,000 gems
T6J3GG2223R – get 1,000 gems
HVXFZM2223Q – get 500 gems
MLAXMAS – get 150 gems
888888 – get 288 gems
MLA1YEAR – get 1,000 gems
MLAFBGO – get 300 gems
MLAISFIRE – get 40,000 gold
MLAREDDIT – get 500 gems
MLADISCORD – get 300 gems
MLAISLITE – get 30 gems and 30,000 gold
8G763N22239 – get free gems
HV4K4V2223K – get 10 Nightmare Tickets
SUKNBJ2223M – get 5 Premium Summon Scrolls
AU5RWR2223J – get 1,000 gems
AU5ZWR2223J – get 1,000 gems
MLA950KFB – get a good amount of gems
MLA35KFANS – get a good amount of gems
MLAVKFANS – get 300 gems
HAPPYNEW202 – get 150 gems
Active Codes
The following redemption codes are confirmed to be active on March 1, 2021.
47BWK42223S (1,000 diamonds)
Make sure to capitalize the symbol with the same capital letters shown in the list above.
If you receive the message "CD-KEY expired", the code has expired.
To help other players use our list, please let us know in the comment section if you find that any active code on the list has expired.
If you receive any other error messages when redeeming a code, it means that you either entered the code incorrectly or that you are not eligible to receive it.
Expired Codes Keys
Below is the list of codes that are no longer working.
| | |
| --- | --- |
| CODES | Rewards |
| HAPPYNEW202 | 150 gems |
| MLAXMAS | 1000 diamonds |
| AU5ZWR2223J | 1000 gems |
How to redeem codes key in Mobile Legends: Adventure
To redeem redemption codes in Mobile Legends: Adventure, go to the Campaign, Suburb, or City in the bottom menu.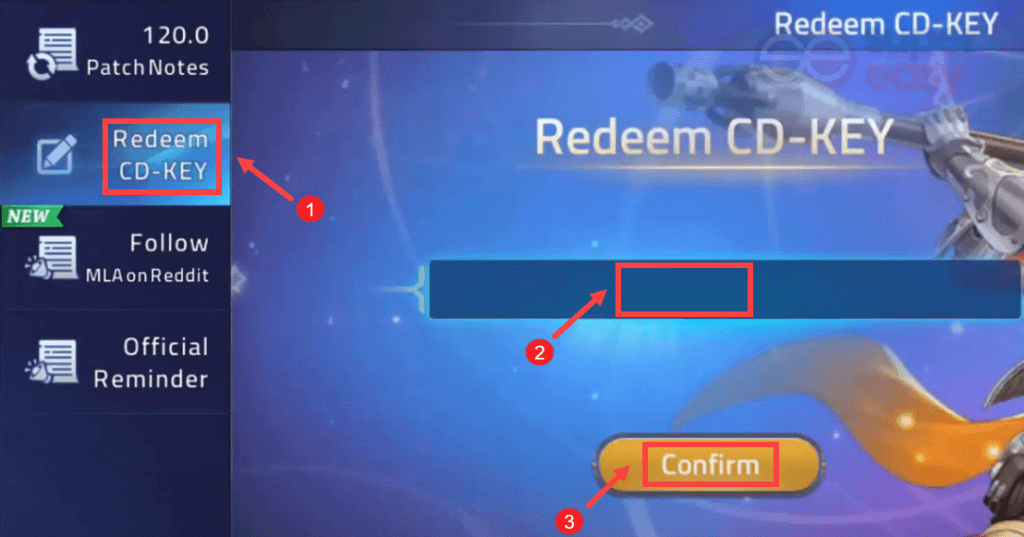 Head to the game's main menu screen.
Click on the Event's icon on the left-side of the screen.
Go to the Notice tab on the bottom part of the screen.
On the left-side of this screen, click on the Redeem CD-KEY.
Enter any code into the field and hit Confirm.
What are redemption codes
Redemption Codes are special codes that allow players to redeem useful items and resources in Mobile Legends: Adventure, including Diamonds and Summon Tickets.
Developers often release codes when major new updates, vacation fixes, or major promotions are announced.
Codes expire after a period of time, usually when the holiday or event for which they were issued expires.
Players can speed up their progression by taking advantage of these redemption codes, as they often offer many useful rewards.
Therefore, we recommend that you check back this list of active icons from time to time.