PUBG NEWS: Team Deathmatch new game mode comes
Surprise! With the upcoming 6.2 update, PUBG Corp. in PlayerUnknown's Battlegrounds establish a completely new game mode on PC and consoles, which even deviates completely from the Battle Royale principle. We are talking about a team deathmatch mode in which two teams of eight players compete against each other in the first person perspective (FPP).
A total of seven battlefields are available for the launch, which are borrowed from four already known maps. You will find yourself in sections of the maps Sanhok, Vikendi, Miramar and Erangel. Instead of having to collect your equipment lengthily, you simply select one of many different "spawn kits" in the menu, which provide different combinations of equipment.
The new Team Deathmatch mode could be particularly interesting for all players who appreciate the gameplay rather than the survival aspect of PUBG. So if you have friends who didn't particularly like "Loot 15 minutes and then die", then you should say exactly this – a possibly suitable alternative for all of them should still be available in Season 6.
The goal of Team Deathmatch mode is typically to get the most kills. The winner is the side that gets the most kills in ten minutes or, alternatively, fills the 50 kills first. In total, two round wins are needed to win the entire match.
Locations
ERANGEL – Stalber, Sosnovka Military Base
SANHOK – Paradise Resort, Docks
VIKENDI – Podvosto, Peshkova
MIRAMAR – Campo Militar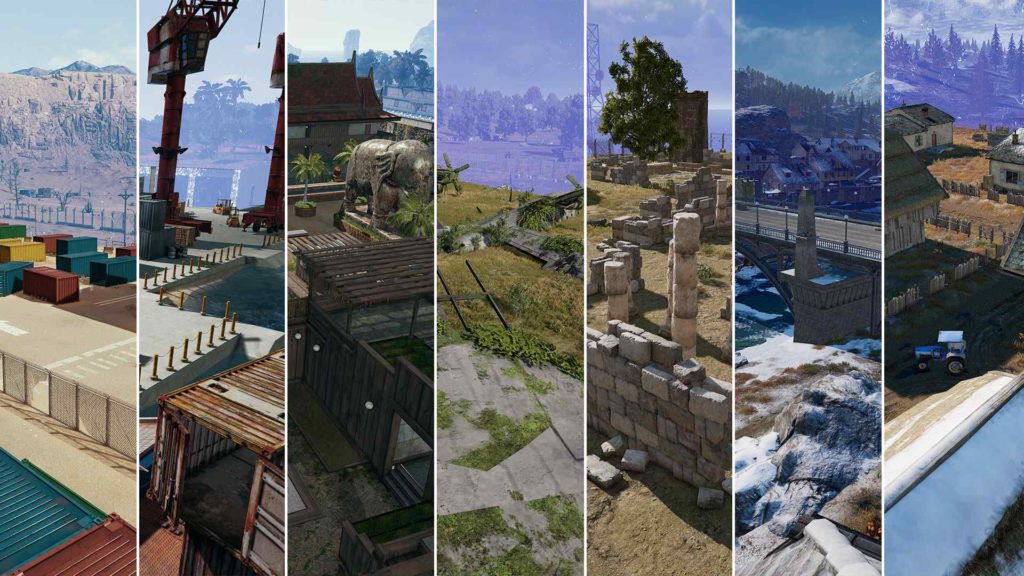 Rules & Changes
Of course there are some changes to the gameplay compared to the normal Battle Royale survival struggle. We list the most important of these below, you can read all the rules in the screenshot below. By the way, there is also a hint about other planned modes, exciting!
No DBNO / no knockdowns
FPP only
Only 8 vs. 8th
Choice of equipment with spawn kits
5 second respawn timer
No friendly fire
No reconnects
PlayerUnknown's Battlegrounds (short: PUBG) is one of the most successful Battle Royale titles. In this action-packed multiplayer game, 100 players usually fight for survival alone or in teams on a map. Based on the Japanese manga and film model "Battle Royale", PUBG is one of the most popular representatives of the genre. PlayerUnknown's Battlegrounds went through the Steam Early Access phase in March 2017 and version 1.0 was released in December 2017. The game has since appeared on several platforms (including: PC, XBOX One, PlayStation 4 and as PUBG Mobile for smartphones).
The PUBG team said there will be more coming to PUBG Arcade soon. New Team Deathmatch maps and new gameplay on the way.
Stay tuned to TheGameRoof for the PUBG Update latest patch notes, and content drop news for the game.