Realm Royale Patch Notes OB22 – Update
The developers of Realm Royale have released the OB22 patch today; we have complete information about the update.
Realm Royaleis a free Battle Royale game developed by Heroic Leap Games. The game features multiple character classes, each with unique abilities. It is a spin-off of the shooter hero Paladins, where it originated as a game mode known as Paladins: Battlegrounds.
Realm Royale Update Size: Realm Royale Update 1.39 of Realm Royale is now ready to download; you have to download 3.6 GB on the PS4.
Realm Royale Patch NotesUpdate Overview
The OB22: BokOps update is coming in October! Dive into the new BokOps Battle Pass, featuring 50 levels of futuristic military content. Storm the Realm with the One Man Army Warrior, or take a stealthier approach as the Infiltrator Assassin. Plus: with Chickens like the Cluckmando and mounts like F.I.D.O., this Battle Pass has everything you need to claim victory.
Leap into action with the third ability slot! Players can now hold an Offensive, Support, and Movement ability simultaneously, opening up new combinations to take into battle. The Forge will now offer the ability to create Class-specific or Neutral skills to accommodate this exciting new feature.
Fungal Jungle is also getting a rework in this update, taking the point of interest to new heights. A network of bridges now connects the towering portobellos of Fungal Jungle, with a massive mushroom Forge in its center. Gain a vantage point and show you own the throne in the new Fungal Jungle.
Evolve your tactics with the OB22: BokOps update with the newly added Gyro support! We've only touched the surface of features packed into this update.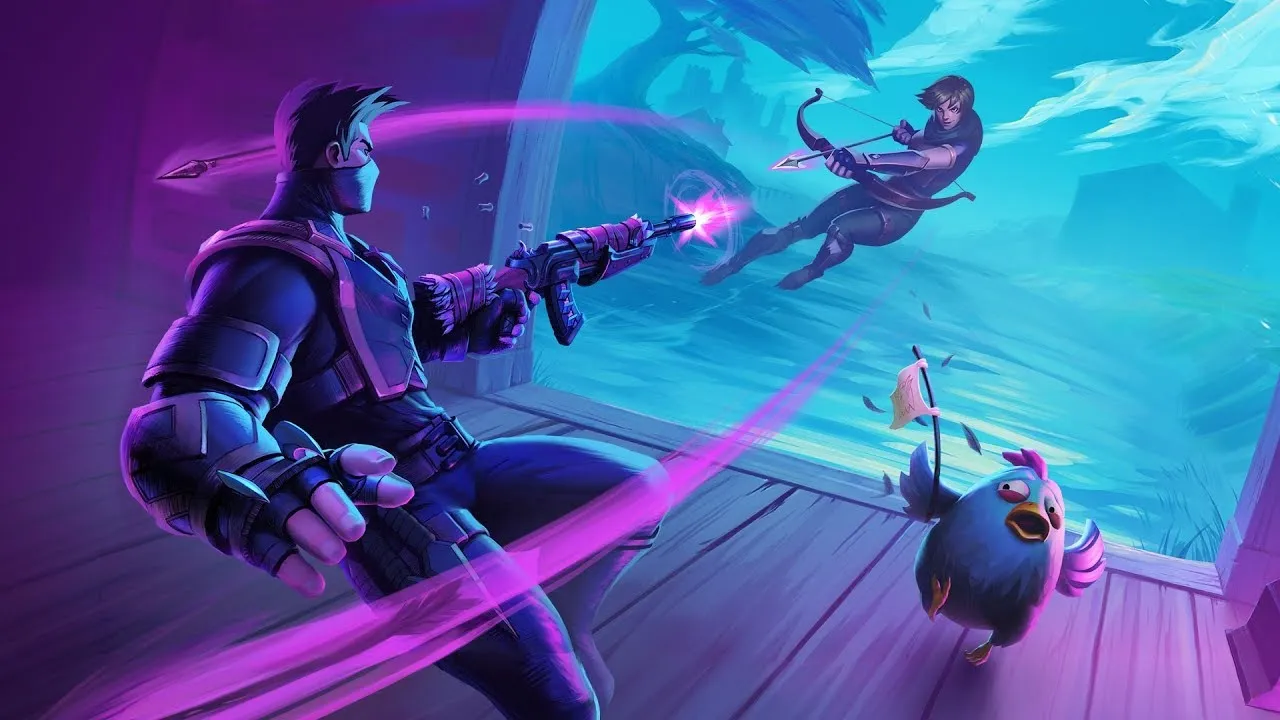 Realm Royale Update 1.39 Patch Notes OB22
GENERAL
BokOps Battle Pass

50 levels of futuristic military cosmetics are unlockable by playing Realm Royale
Unlock the premium track of the Battle Pass for 900 Crowns, or unlock the Battle Bundle, which contains the premium track and 20 immediate levels, for 2,250 Crowns!

Third Ability Slot

Players will now be able to equip an Offensive, Support, and Movement Ability at the same time
Players will have the option of Forging either Class-specific Abilities, or Forging from the neutral pool of Abilities available in-game
Forge Talents now apply to the Forge Class Ability selection

Gyro Support PS4 & Switch

Gyro has been added to PlayStation 4 and Switch controllers

Input-Based Matchmaking

Players can now use the Input-Based Matchmaking Preference option under Gameplay

Same Input Type: Players who use a controller for a crossplay match will now only be matched with other players on a controller
Any Input Type: Players will be placed into lobbies with players using controllers and mouse and keyboard

If a player on a controller joins a party with a player on a keyboard and mouse, they'll be placed into Any Input Type matchmaking
Players cannot change input methods during matches

Custom Game Player Requirements Lowered

The amount of required players to launch a custom game has been lowered from 24 to 12

Rank Rewards Coming with OB23

Reward for reaching the Master rank in at least one queue has been pushed to the OB23 update. Ranks will not be reset with the OB22 update

PS4 Cross-Play

Cross-play now welcomes PlayStation 4 to cross-play
Add players as in-game friends on the Social tab, then invite them to your party to play together
We do not currently support cross-progression (shared Achievement / Trophy progress) and cross-commerce (shared pool of purchased items across platforms). We're working alongside our partners at Sony and will update the community when we have more information on these subjects
MAP UPDATES
Fungal Jungle

Fungal Jungle has a new look. We've taken the area and made it sky-high
Inside the buildings players can now find more chests, and more areas to ambush their enemies

Small updates to clean up previously existing issues on the map
BALANCE
Weapons

Shotgun:

Added Knockback to base fire, scales with rarity
Damage increased to 750/800/850/950
Accuracy

Non-ADS accuracy increased to 75%
ADS accuracy increased to 80%

Time in between each shot increased to 1.1s
Reload speed decreased to 1.6s
Clip size increased from 5 to 6

Abilities

Dodge Roll

Movement distance increased
Cooldown decreased to 15/12/10/8

Flask of Healing

Cooldown decreased from 35/30/30/25 to 18/16/14/12

Healing Shout

Cooldown decreased to 30/26/22/18

Heroic Leap

Cooldown decreased to 28/24/20/15
Increased leap range

Proximity Trap:

No longer deals damage
On explosion Proximity Trap will now slow enemies for 4s
Deploy time has been increased across all rarities

Shielding Potion

Cooldown decreased from 40/35/30/25 to 20/18/16/14

Shielding Shout

Decreased amount of Shield provided from 400 to 300
Cooldown decreased to 25/22/18/15

Turret (Legendary)

Range increased
Projectile speed increased
Damage per shot increased to 250
Time between shots decreased to 0.75s
Cooldown decreased to 15s

Talents

Exaction (Hunter)

Decreased damage boost to 15%

Gladiator (Warrior)

Shieling Shout, Healing Shout, and Net Shot have 25% reduced Cooldown

Trapper (Hunter)

Changed to now Root for 1s and Reveal for 3s

Runes

Replaced Ability Cooldown Rune with Offensive Ability Cooldown Rune and Support Ability Cooldown Rune
Chicken Health Rune bonus decreased from 1000 to 800 Health
POLISH
Quality of Life Improvements

Changing custom bindings will now be reflected in the UI immediately upon changing them
While scoped in with the Sniper Rifle, crosshairs will no longer appear on the screen
There is now an option to bind map ping to a controller through the binding menu
Rounds now end with the fog centered on a forge a majority of the time
Players are now able to mute players through the in-game map, by selecting their party member and choosing to mute

Bug Fixes

Addressed an issue where the spectator would focus on the incorrect player after your party is eliminated
Skull of Chaos can no longer deal damage to players using Ice Block
Snow no longer falls inside the Coldmist Village Forge
Gatekeeper's walking speed no longer gets stuck on the player if the weapon is swapped while charging
Abilities cannot be dropped from the inventory while they are active

Under Investigation

We are still investigating the cause of some crashes on the Nintendo Switch
We are still investigating the source of some lag issues on PlayStation 4