How to Max Graphics and FPS in Call of Duty Mobile Android
Call of Duty Mobile is one of the next most popular games for mobile phones. He has already crossed millions of pre-registration in the Play Store, which is huge considering that the beta is still closed.
CODM is a modern mobile game with intensive graphics. Therefore, it is not compatible with all Android devices, especially low-end smartphones. Requires a minimum of Snapdragon 625 processor with Adreno 506 GPU and at least 3 GB of RAM. If you play it on a low-end Android device, it will throw an error saying that your device is not compatible or simply run it in low graphics.
Here is a way to play Call of Duty Mobile in maximum graphics and maximum FPS or even in low-end smartphones with the help of Gfx tools or, more specifically, GLTools for COD Mobile.
Gfx tools and bluechip io are very common and popular tools among mobile players. Especially the Gfx tool for the PUBG mobile game allows high or HDR graphic configurations along with extreme FPS options that are not normally available.
Therefore, Gfx tools are useful, and edit the configuration file to provide you with the best available graphics and options. This improves the pictures and optimizes the GPU for better playability. I have been using the Gfx tool on my Samsung Galaxy S8 to play PUBG mobile to get extreme HDR and FPS graphics. How do I get intense FPS on CoD mobile? Most importantly, it has helped with problems of delay and contact in the claw method.
GLTools does the same for Call of Duty mobile. As we reported for the first time in our Error Correction tutorial in Call of Duty Mobile, the game needs minimum hardware requirements as follows:
Snapdragon 625 with Adreno 506 and above
Mediatek Helio P23 with MALI G71 and above
Kirin 960 with MALI G71 and above
At least 3GB of RAM
At least 4- 5 GB of free internal storage
To avoid this, we need a special tool called GLTools that can be used to trick the game into thinking that the phone's hardware is higher
Call of Duty Mobile Performance Guide
Call of Duty Mobile max graphics and max FPS on low-end Android devices
Make sure you have installed the latest Call of Duty Mobile APK version.
Make sure your Android device is rooted with the latest Magisk Manager.
Download and install GLTools for COD Mobile.
Launch GLTools and allow the necessary permissions.
Tick all the check-boxes at the bottom to enable the Install options.
Tap on the option "Install using Magisk (systemless)".
This will create a zip file in your phone storage.
Launch Magisk Manager and swipe to access the navigation menu – choose modules.
Tap on the + sign on the modules and select the file created by GLTools. (available at the very bottom)
Install it and reboot the phone.
Now, launch the newly installed GLTools.
You should get a new user interface with a list of apps.
Select the Call of Duty app.
Tick on the "Enable custom settings for this app" option.
Scroll down and enable options like
– Use Fake GPU info
-Use fake CPU/RAM info
-Advanced RAM spoofing
Scroll down and select "use custom template option".
Choose the appropriate GPU according to your device which is higher than the minimum requirements listed above.
If you have a flagship phone, then you can select the highest GPU option. For instance, if you have Adreno, select the highest Adreno GPU or if you have Mali then select the highest Mali GPU.
Finally, scroll down and enable the simple map bugger option.
Exit the GlTools.
Launch the Call of Duty Mobile app and you will see all the highest settings.
Remember, if anything goes wrong, you can always uninstall the game and install a fresh copy.
How to unlock Max Graphics and FPS in Call of Duty Mobile Full Guide
Also, Install Game Booster For Smooth game performance
Every mobile company like Xiaomi, Samsung, etc has its own in-built game booster. Although, many game boosters are available in the Google play store market.
Call of Duty: Mobile in highest graphics settings Install Game Booster, follow these steps:-
Open the "Google Play Store".
Search "Game Booster" in the search box.
Download and Install the one with the best ratings.
Open the "Game Booster" after installation.
It will automatically search for all the games available on your smartphone.
Run the "Call Of Duty mobile" from the game booster.
Game Booster will significantly improve your gameplay experience in Call of Duty mobile.
Want to learn how to reduce lag and play better?
COD Mobile BEST settings for NO LAG and better aim ( Watch Full Video )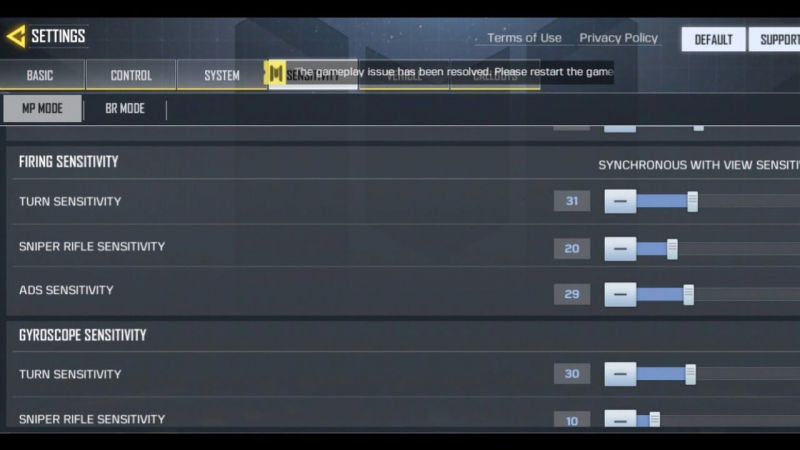 Hare is best aiming and sensitivity settings, which provides a better ability to aim in battle.
Call of Duty Mobile Performance Guide
COD Mobile Best Aim Settings
Two types of aiming options available in Call of Duty Mobile.
Simple Option:-
This type of Aim is only available in multiplayer mode and is recommended to all players who play in this mode. Simple Aim automatically fires the weapon when the target is placed on the enemy's body, which means that it is no longer necessary to press the fire button to fire.
Advanced Option:-
This objective is the second option available in multiplayer mode and is only recommended for players who have a great experience in shooting games. Some players like to shoot weapons manually, and the advanced target allows them to do so.
Call of Duty Mobile Best Sensitivity Settings
COD Multiplayer Mode Sensitivity
Turn Sensitivity = 45
Sniper Rifle Sensitivity = 30
ADS Senstivity = 40
COD Battle Royale Mode Sensitivity
FPP View = 45
TPP View = 40
Optics = 40
3X Scope = 30
4X Scope = 20
Firing = 35
Sniper Rifle Sensitivity = 35
Stay tuned to TheGameRoof for the latest Call of Duty Mobile patch notes, and content drop news for the game.