PUBG Mobile APK Download – Full Latest Version
PUBG Mobile APK is a very popular Battle Royale game available for Android and iOS. This publication provides a direct link to the APK download of PUBG Mobile for Android phones, unlike installation from Play Store.
At the time of writing this publication, the game is in season 9, which began on August 14, 2019 with version 0.14.0.
After PUBG Mobile, Call of Duty Mobile made its public release on October 1 and was a great success in the history of Android games. 35 million downloads in the first week of its release.
About PUBG Mobile Gameplay:
The official PLAYERUNKNOWN'S BATTLEGROUNDS (shortened as PUBG) designed exclusively for mobile which will give the gamers freedom to Play free anywhere, anytime. PUBG MOBILE delivers the most intense free-to-play multiplayer action on mobile.
The gameplay include survive epic 100-player battles, and fast-paced 4v4 team deathmatch and zombie modes. Survival is key and the last one standing wins. Accept the challenge and be the one!
Some of the key notes of PUBG, include:
Based on unreal engine 4 which delivers console quality gaming on the mobile platform.
A huge options of battle maps which will give you an experience of all kinds of terrain, dynamic weather, day or night cycles etc.
Play Solo, Duo, and in 4-player Squads. PUBG Offers FPS (First-Person Shooter) and TPS (Third-Person Shooter) play.
Daily events & challenges, and monthly updates delivering new gameplay features and modes that keep PUBG MOBILE always growing and expanding.
And most importantly, the powerful and serious anti-cheating mechanisms ensure a fair and balanced gaming environment where everyone plays by the rules.
Well, the introduction will not be enough for those who don't know about PUBG Mobile and it is not at all necessary for those who have already played it.
PUBG Mobile APK Info:
| App Name | PUBG Mobile APK |
| --- | --- |
| Developer | Tencent Games |
| Gaming engine | Unreal Engine 4 |
| OS Platform | Android |
| Supported OS Version | 4.3 and above |
| Current Game version | 0.14.0 |
| APK Size | 45MB |
So, What's new in the PUBG Mobile APK latest version?
The latest version of PUBG Mobile APK was released on August 14th 2019. The latest release has the following updates: Royale Pass Season 9 – Warriors, united!
PUBG Mobile Royale Pass Improvements:
Added new season countdown timer.
Ask your friends for a pass during the first week of the Season!
Upgrade Royale Pass to get a customized sharing page.
Missions and Ranking pages redesigned.
Other Improvements:
Added Weekly Mission crate reminders.
Added Achievement chain progress.
And Even More:
Emotes can now be dismantled.
Purchase UC to get great rewards and a discount on rare firearm finishes.
PUBG Mobile|Whats New in Latest Update 0.15.0 ?
PlayerUnknown's Battlegrounds by Tencent Games is currently in season 9 of Royale Pass.The 0.15.0 patch update will be the first after the release of Season 9 of the PUBG Mobile Royale Pass.
The official PUBG Mobile Twitter had recently published a survey for players to choose what they want to know about update. As the survey suggests, the update will have new weapons, features and a new game mode the payload mode in the store.
Royale Pass 9: Details
The exclusive Royale Pass sets and skins that we will get for the 9th season of PUBG Mobile are The Observer Set, Infected Grizzly M249, The Observer Cover, Infected Grizzly Dacia, Draconian Champion set and weapons. There may be new avatar frames in the next update. We will also get parachutes, bags, helmets and other masks.
New Weapons in the PUBG Mobile Update 0.15.0
Desert Eagle
Desert Eagle, a new weapon will be launched as part of the PUBG 0.15.0 patch update. PUBG Mobile labeled it to be the most powerful semi-automatic pistol. Desert Eagle or Deagle will be a gun that fires 0.45 ACP rounds. It can support attachments, including Red Dot Sight, Holographic Sight, variants of Magazines and Grips. The new Desert Eagle gun will be found on all maps.
The most powerful semi-auto handgun in the world is coming to PUBG MOBILE in Update 0.15.0! Affectionately known as the Deagle, there's no better pistol for dropping your quarry.
MP5K
MP5K will be a Submachine GUN that will fire 9mm ammo. It is expected to have a good shooting speed and a moderate range. MP5K can host several attachments, including the muzzle and the various magazines, handles, stocks and places of interest. The weapon is in the beta version, but it has not yet been officially announced that it is part of the 0.15.0 update of PUBG Corporation.
PUBG Mobile 0.15.0 Update New Payload Mode, RPG, Helicopters & Lot More
Latest Features in the 0.15.0 PUBG Mobile Update ?
First-Person Perspective
It is likely that patch update 0.15.0 also brings a first-person perspective option to training mode. This new feature has already ventured into the beta version and is very likely to be published as PUBG Corporation releases the new update.
Crate Animation
The beta version of PUBG Mobile now has an animated clip that plays when a box is opened. The video shows a player firing a flare gun and a burning box thrown by the plane as the camera approaches. Once the fall reaches the ground, the interface shows what a player got. This, again, was not officially announced as part of update 0.15.0, however, it has a good chance of being the new feature mentioned by Tencent Games in its previous tweet.
New element in the update 0.15.0 PUBG Mobile
The fuel cans gas in the beta version of PUBG Mobile now explode when they open fire on them. This means that they could also be used as explosives when players run out of fragmentary grenades or Molotov cocktails, except that they still cannot be thrown, but can simply be placed. This change is also likely to occur with update 0.15.0.
Payload Mode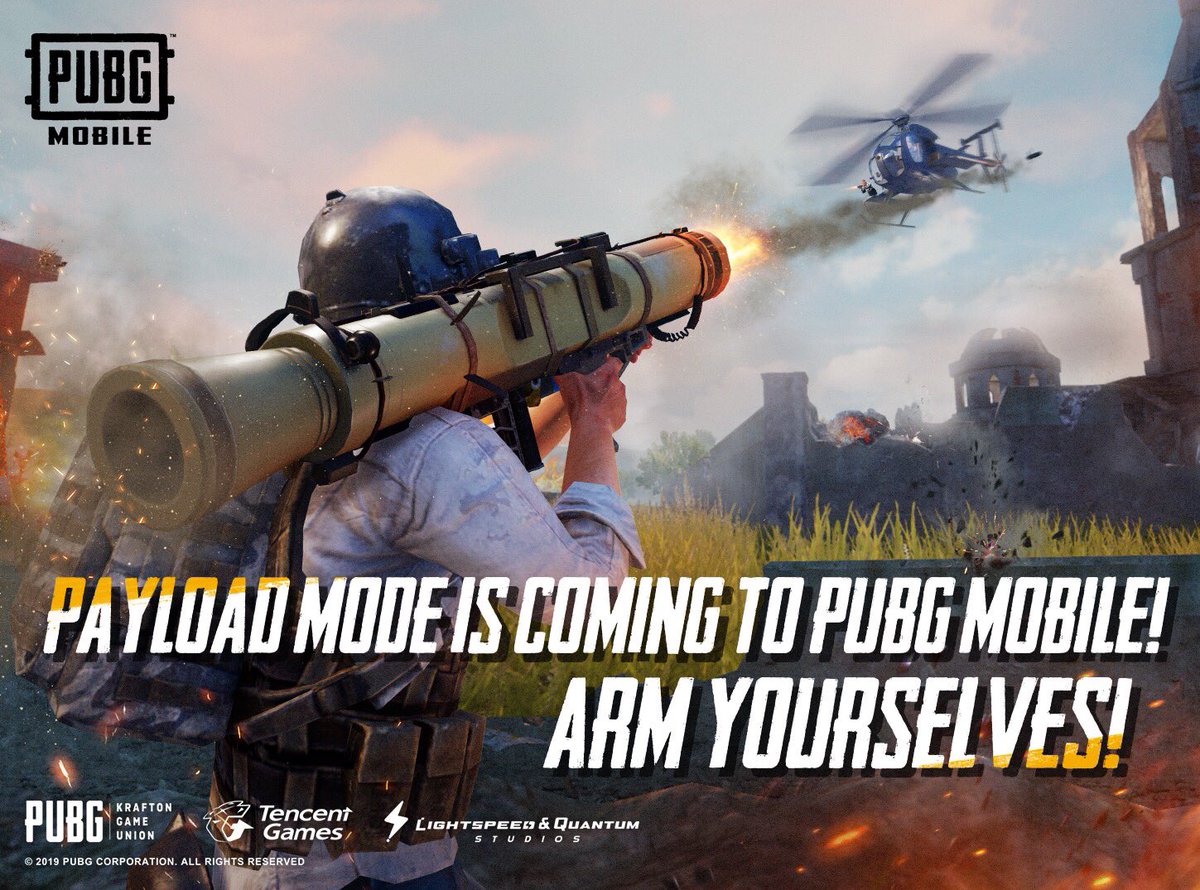 The mode called Payload Mode is also coming along with the PUBG Mobile 0.15.0 update. Players could almost be sure of this, since the PUBG Mobile Twitter survey, as seen above, had one of the options such as Payload Mode. The new game mode brings several new weapons, including RPG 7, M3EI-A, grenade launchers, aerial beacons, BRDM vehicles, comeback towers and helicopters.
Latest PUBG Mobile APK Download for Android:
Well, you can install the game from the play store link as well.
You can download the latest version of PUBG Mobile APK from here and install it by following the instructions mentioned in this post to start playing PUBG Mobile on Android right away. Below are the required files for Android:
How to Install and play PUBG Mobile APK game on Android:
First uninstall any previously installed version.
Download the PUBG Mobile APK file copy it to your phone.
To install PUBG Mobile APK on Android, enable app install from Unknown Sources in your Android device.
Stay tuned to TheGameRoof for the latest PUBG patch notes, and content drop news for the game.